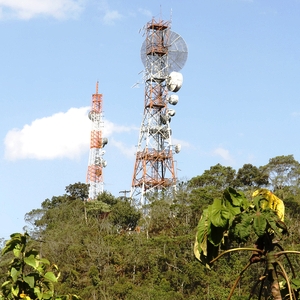 Local broadcasters, the lifeblood of many Brazilian communities, face tough times. Rafael Spuldar reports

Community radio stations are one of Brazil's most widespread ways to democratise information and develop citizenship within the poorer urban areas and the countryside. However, many people from the community media environment feel the law does not allow these broadcasters to function at full capacity.
Community radio broadcasting was effectively regulated in Brazil in 1998 through a bill that laid out criteria and rules. Stations are required to operate in low-powered frequency modulation (FM) up to 25W. The stations' programming must also be open to all inhabitants in its coverage area, should not aim for a profit and have no connection to political parties or religious institutions.
Brazil currently has around 4,700 community radio stations, operating either with full or temporary authorisation from the federal government. Up to another 1,300 stations that are waiting for authorisation to begin broadcasting.
Experts and stations representatives say that community stations are still a great way to empower people through efficient communication within their communities, even in a time when social media and cyberspace seem to command the most attention.
"While commercial media speaks about a place, community media speaks from a place", says Professor Adair Rocha from PUC-Rio and Uerj universities. Rocha has more than 30 years of experience working with community communication in Rio de Janeiro.
"It's obvious that commercial media has greater power, with broader market relations that attract the population. But community media has another power, which is making each person to identify oneself with that particular thing he or she does, or communicates."
In this context, the phenomenon of social media has strengthened community radios, giving them space to publish programming notes and attract new listeners, says José Luiz Sóter, executive coordinator at Abraço Nacional, which is Brazil's Community Radio Broadcasting Association.
"Just as mobile phones replaced the use of transistor radios by fans at the football stadiums, most community radio stations have adopted the latest streaming technologies and entered the virtual world", Sóter told Index on Censorship.
States from the South and Southeast regions, the richest in Brazil, have the highest concentration of community radio stations in the country, especially in the metropolitan areas.
The federal government has been criticised for not doing more to improve the legislation that regulates community radios, which is generally thought to be obsolete.
One of the radio stations' main complaints is related to diversifying the sources of financing. The 1998 bill states that stations can only get advertising in the form of "cultural support", stipulating it only comes from sponsors located inside its community – which is seen as something that limits the radios' financial viability.
Associations like Abraço Nacional also demand more broadcasting power for stations and a streamlined authorisations process for new stations.
Brazil's Ministry of Communications denies the existence of any obstacle in the authorisation process. In 2011, it created the National Plan of Grants for Community Radio Broadcasting, which publishes a list of expansion locations months ahead, allowing time for interested parties to collect required documentation and to prepare themselves to go on air.
"Many times, however, the entities that ask for the authorisation do not send us the complete documentation, which pushes back the schedule", says the Ministry's general coordinator for Community Radio Broadcasting, Samir Nobre.
Nobre says the government intends to make it possible for all municipalities in Brazil to have at least one community radio by the end of 2013. Around 2,000 of the 5,500 cities in the country still don't have community radio stations.
Abraço Nacional recently issued a statement criticising the government for not completing a series of recommendations that it had committed to complete by November 2011. One of the demands was making communities radios eligible for the federal government's advertising budget, which has not yet been done.
"The public power has done everything to make it difficult for community radios to survive", says Abraço Nacional's José Luiz Sóter.
The Ministry of Communications responded by saying that community radios are an "important form of communication" but claimed it has no power to modify the law in force.
The community radio movement has also been hijacked by many groups — political and religious — flouting the law to create broadcasting outlets . Radio stations that were supposed to have community-driven programming end up being vehicles for the interests of private groups.
The Ministry of Communications acknowledges the problem and says it is doing its best to improve control over authorised stations' operations.
On the other hand, some community radio stations that violate the law's technical restrictions or that simply start operating without authorisation are considered by the government to be "pirate radios". Many of them end up being shut down and having their equipment impounded by the police.
Traditional media often portrays these "pirate stations" as a menacing problem that could interfere with the frequency used by flight controllers, allegedly threatening the safety of commercial flights. Some see this kind of attitude as a move by big media companies to stop community stations from operating.
The debate about pirate stations "is part of the dispute for audience, in which groups with greater economic power try to keep their hegemony", says Professor Adair Rocha from PUC-Rio and Uerj.
"This image the media created of 'radios that put planes down' is certainly not truthful".
Latest posts by Rafael Spuldar
(see all)