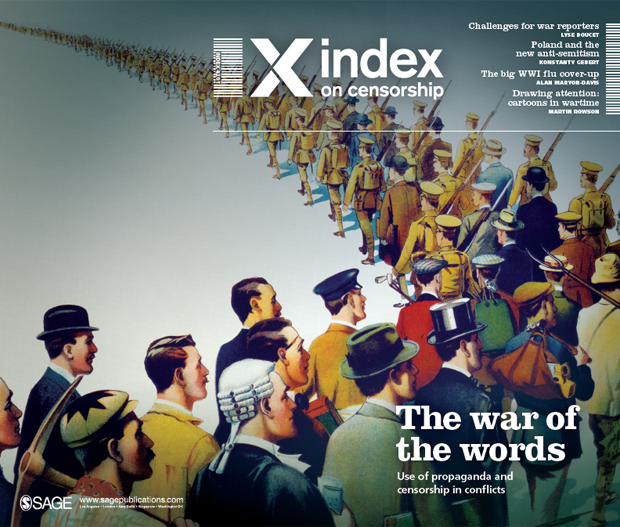 In the Spring issue of the magazine, we include a special report, the war of words, on the use of propaganda and censorship during conflicts.
This theme seems particularly timely with the current situation in Crimea, where we are seeing classic propaganda techniques being rolled out to rally support for the vote to join Russia. Our special report of 15 articles and essays, starts with WWI where the current use of the term propaganda was invented and looks at poster campaigns, and propaganda journalism in the USA, but our writers, who include Lyse Doucet, David Aaronovitch, Rana Mitter, and serving army officer Ric Cole, also look at WWII, Iraq, Afghanistan and Syria.
Natasha Joseph interviews a journalist who worked in South Africa during apartheid, and what it was like to file stories from a newsroom knowing one of your colleagues was a spy; and Scottish journalist John MacLeod reports on a bombing cover-up in Clydebank, near Glasgow, where a huge swath of the town was flattened, and the rest of the country was left completely unaware because of wartime censorship. This Scottish story is still not that well known, even today. Something that illustrates the power of the cover-up during wartime, is the way details of the wartime flu epidemic was kept from millions of people all over the world.
In the other sections of the magazine, Irena Maryniak looks at the rise of racism and nationalism in Hungary; and Konstanty Gebert reports on hate crime and anti-semitism in Poland. The magazine includes two articles about censorship in science, one from Canada and one from the United States.
Also in this issue:
• Samizdat still going: underground newspapers in Belarus
• First extract in English of a controversial Turkish play
• Film fans go head to head on which decade has seen the strongest women's voices on film. And don't miss our competition to votes on the decade, and win tickets to a screening at Rich Mix cinema
• How do you feel about propaganda? Take our survey.