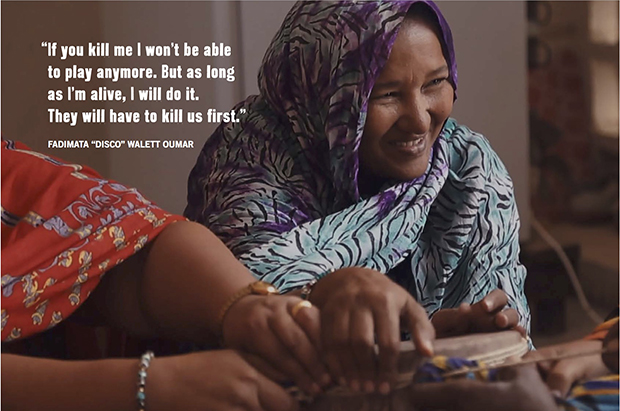 Index is joining forces with the producers of a new feature-length documentary featuring Mali's persecuted musicians to launch a fund that will offer support to musicians facing threats, violence, exile and criminal prosecution around the world.
In 2012, Muslim extremist groups captured northern Mali, implemented sharia law and banned all music. Radio stations were destroyed, instruments burned and Mali's musicians faced torture, even death. They Will Have To Kill Us First: Malian Music In Exile tells the stories of the Malian musicians who fought back and refused to have their music taken away.
The Music In Exile Fund springs directly from witnessing the struggles of musicians featured in the film. The fund will contribute to Index on Censorship's year-long Freedom of Expression Awards Fellowship Programme, supporting at least one nominated musician or group by giving access to bespoke training and assist them to create, perform and share their work in a safe environment.
Songhoy Blues, who feature in They Will Have To Kill Us First, were nominated for the Index Arts award in 2015. The current Arts award fellow is Mouad Belghouat, a Moroccan rapper who releases music as 'El Haqed'. His music publicises widespread poverty and rails against endemic government corruption in Morocco, where he is banned from performing publicly.
"For the two years that followed the ban on music in Mali, I filmed with musicians on the ground, witnessing their struggles and learning what they needed in order to survive as artists," said Johanna Schwartz, director of They Will Have To Kill Us First. "The idea for this fund has grown directly out of those experiences. When faced with censorship, musicians across the world need our support. We are thrilled to be partnering with our long-time collaborators Index on Censorship to launch this fund."
The fund will be launched at the film's UK premiere at the British Film Institute on October 13.
"When we initiated the Awards Fellowship earlier this year, we wanted to help maximise the impact that our awards could have," said Jodie Ginsberg, Index on Censorship chief executive. "We hope that this fund will allow us to do even more to assist those facing censorship so that can focus on what they do best: create."
The funds will be used to support at least one musician or group nominated in the Arts award category. This will include attendance at the Awards Fellowship week in April 2016 – an intensive week-long programme to support career development for the artists. This includes training on advocacy, fundraising, networking and digital security – all crucial for sustaining a career in the arts under the pressure of censorship. The fellow will also receive continued support during their fellowship year.
Our ambition is to widen support as the fund grows to support more musicians in need.
You can donate to the campaign here.