Zaina Erhaim: Syria's Rebellious Women
14 Apr 2016
BY JOSIE TIMMS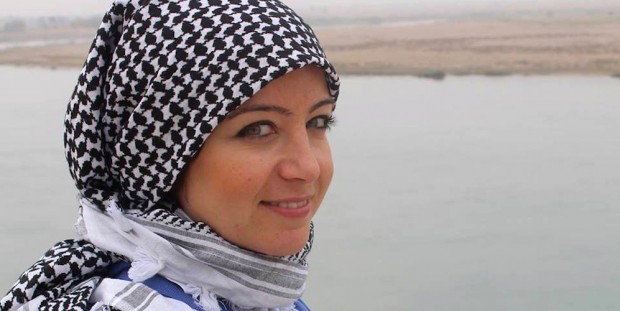 A series of short documentaries directed by 2016 Index on Censorship Freedom of Expression Awards finalist Zaina Erhaim were screened at the Frontline Club in London last night.
Syria's Rebellious Women was filmed by the Syrian journalist over an 18-month period to offer a rare insight into the difficulties faced by women living and working in rebel-held parts of Syria.
The films, which show a side of Syria rarely seen in the media, tell the individual stories of heroic women who continue to document war, provide medical services and deliver supplies to civilians despite disapproval from their families and the male-dominated society.
Erhaim told the audience that she decided to make the films after failing to find anything about Syrian women throughout history during her own research, and wanting to ensure the work of these women was remembered.
She said: "The main reason I made the films is because I am Syrian, and I'm a woman. I tried to do some research six years ago about Syrian women who participated in Syrian history and I couldn't find anything.
"So I felt like we had to capture this work that the women are doing because in the future the men are going to be writing the history and these heroines are going to be forgotten."
As a female journalist Erhaim faced many struggles when making the films, including being forbidden from filming in certain locations, just for being female; meaning she had to teach a male friend to use a camera in order to film scenes for her. Her friend was then hit by a missile after helping her.
She said: "Sometimes you need a hand and there are plenty of people willing to do that, free of charge; even if they are sacrificing their lives for you."
Erhaim has spent the last two years training hundreds of citizen journalists, many of them women. She is also the Syria project coordinator for the Institute for War and Peace Reporting (IWPR), an international organisation that supports journalists in countries undergoing conflict, crisis, or transition, who co-presented the event with Index and the Frontline Club.
When asked if she was optimistic about Syria's future she replied: "No, I'm not. I think I'm being realistic; I don't see any change happening, at least for better. Not for women, not for men, not for Syrians."
Latest posts by Josie Timms
(see all)