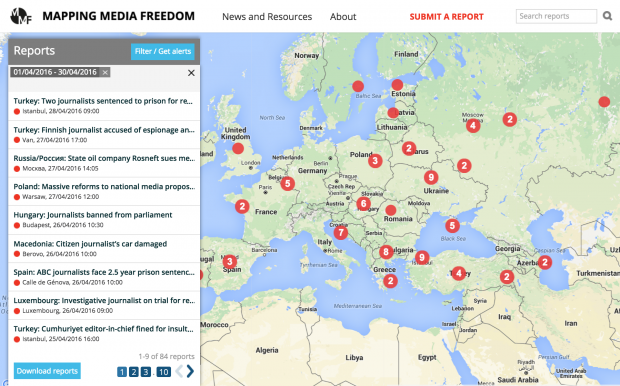 April 2016 was the busiest month for Index on Censorship's Mapping Media Freedom since the project began in May 2014, with a total of 87 violations against the media recorded. While MMF records violations from over 40 countries, the majority (55%) of last month's violations came from just five countries.
These hotspots for attacks on the media will come as no surprise to anyone following the project in recent months.
Turkey continues to be the worst offender
With 16 violations recorded within its borders in April, Turkey is again the location with the most offences.
One of the most worrying occurrences last month was on 28 April when journalists Ceyda Karan and Hikment Chetinkaya, who work for Turkish daily Cumhuriyet, were sentenced to two years in prison for publishing the cover of Charlie Hebdo magazine featuring an image of prophet Muhammad. The pair were convicted of inciting "hatred and enmity".
In another instance, on 30 April, Hamza Aktan, news director of private Istanbul-based IMC TV, was arrested by anti-terror police. Aktan was escorted to the police station where he was interrogated for 12 hours and then released. The editor is being accused of spreading propaganda for a terrorist organisation and trying to build public opinion abroad against interests of Turkey for four public tweets.
UPDATE: Government-seized Zaman and Cihan forced to close
Index on Censorship's latest quarterly report includes a case study on an Istanbul court appointing a group of trustees to take over the management of Zaman newspaper. Since the report, it has been announced that Zaman and Cihan News Agency, also government-seized,
are to be permanently closed on 15 May
. The decision comes the day after the European Commission recommendation of granting Turkey visa-free travel to the EU.
Russia: Big business throws its weight around
As the Panama Papers showed in April, investigative journalism is essential if misconduct and abuse by big business are to come to light. This makes a recent trend in Russia all the more worrying.
A total of 12 reports were filed in Russia last month, three of which related to journalists investigating business. On 12 April, when covering truckers protesting against the "illegal" actions of Omega, journalist Anton Siliverstov's phone was stolen by Evgeni Rutkovski the director of the transport company. When he asked Rutkovski to comment on the protest, Siliverstov was forced from the office. The journalist said he would record the incident on his phone, at which point Rutkovski snatched the journalist's device, refused to give it back and called security. Siliverstov hasn't seen the phone since.
Two days later, reporter Igor Dovidovich was assaulted by the head of Gaz-Service, a gas company he was investigating. His TV crew was also attacked by the firm's employees.
The month ened with state oil company Rosneft filing a judicial complaint against BiznessPress for an article which, the firm said, is "false and represents baseless fantasies of journalists or their so-called sources".
Ukraine: TV journalists in the firing line
Ukraine continues to be unsafe for many media workers, with nine reports submitted to the project in April. Violations included five cases of intimidation, two attacks to property and several physical assaults. On 1 April, unidentified assailants set a local TV studio on fire with molotov cocktails. Studio equipment and furniture were destroyed. No one was injured.
Three days later, claims emerged that journalists working for TV channel 1+1 were under surveillance, have received death threats and have been assaulted. Later in the month, journalists from the station were attacked on 19 and 20 April.
Belarus: Journalism as a crime
Journalism is not a crime, but you'd be excused for thinking otherwise when observing recent events in Belarus. Seven reports were filed for Belarus last month, including two criminal charges resulting in fines, three arrests, and one journalist interrogated for doing his job.
On 15 April, freelance journalists were fined approximately €330 each for contributing to Polish TV channel. Kastus Zhukousky and Larysa Schyrakova were found guilty of illegal production and distribution of media products and for contributing to a foreign media outlet without accreditation.
Zhukouski has been fined seven times this year alone.
Macedonia: Anti-government protests turn sour
Six reports were submitted from Macedonia during April. The most worrying instances involved attacks to property (2) and a physical assault, leading to an injury.
April saw a wave of anti-government protests with thousands marching, mainly peacefully, through the capital city of Skopje. On 13 April four photographers and one journalist were injured by police during the anti-government demonstration. Two TV journalists were also injured by demonstrators on the day. On 14 April the offices of the Slobodna Makedonija radio station were pelted with stones by some anti-government demonstrators, causing the windows to break and other material damages.
Mapping Media Freedom Quarterly Report
Index on Censorship has released its report for the first quarter of 2016 covering 1 January and 31 March 2016. During this time: Four journalists were killed; 43 incidents of physical assault were confirmed; and there were 87 verified reports of intimidation, which includes psychological abuse, sexual harassment, trolling/cyberbullying and defamation. Media professionals were detained in 27 incidents; 37 criminal charges and civil lawsuits were filed; and media professionals were blocked from covering a story in 62 verified incidents.
"Conflict in Turkey and eastern Ukraine along with the misuse of a broad range of legislation — from limiting public broadcasters to prosecuting journalists as terrorists — have had a negative effect on press freedom across the continent," Hannah Machlin, Mapping Media Freedom project officer, said.

Latest posts by Ryan McChrystal
(see all)