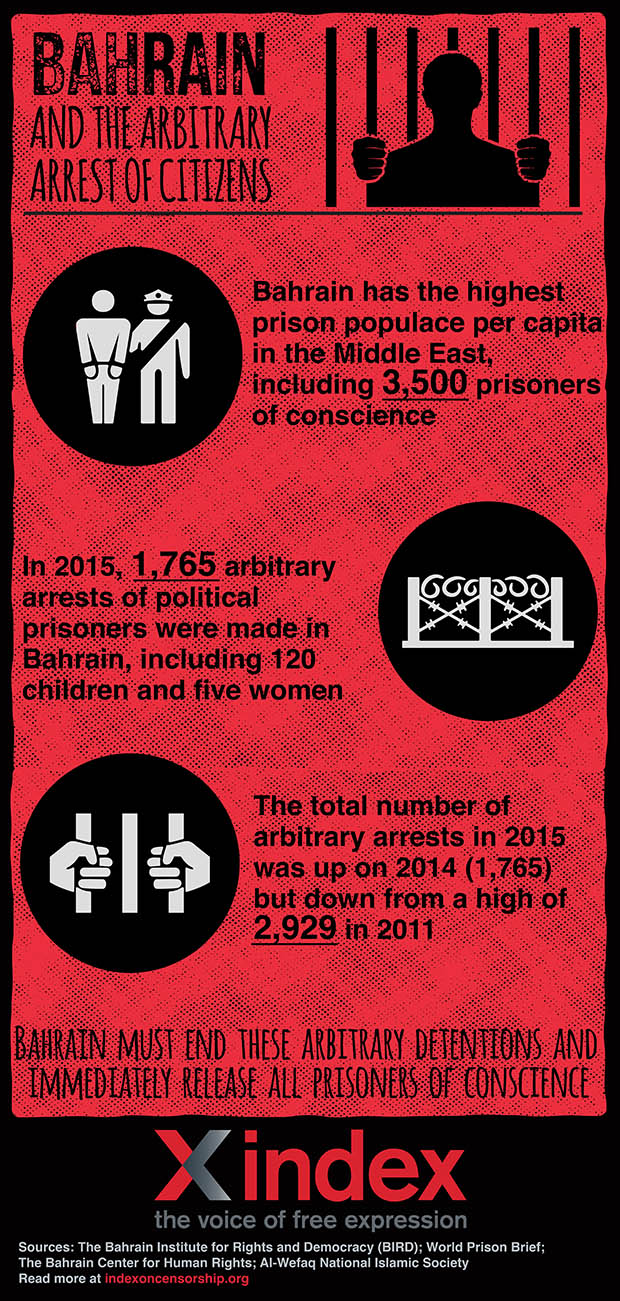 Bahraini authorities this week released opposition activist Zainab Al-Khawaja, who had been imprisoned with her infant son since March. She had been convicted of insulting the Bahraini king after she ripped up a picture of him.
Al-Khawaja may now be out of prison — though she could be re-arrested at any time — but her father, Abdulhadi Al-Khawaja, is one of over 3,500 prisoners of conscience who remain in Bahrain's jails. According to research by World Prison Brief, Bahrain has the highest number of prisoners per capita in the Middle East, with 301 people in jail per 100,000 people of its 1.3 million population (followed by Israel at 256).
Arbitrary detention is the imprisonment of a person without proper evidence that they committed a crime or a case in which there has been no proper due process. Last year, the Liberties and Human Rights Department (LHRD) of Al-Wefaq National Islamic Society recorded a total of 1,765 arrests by security services for reasons related to the opposition political movement, including the arrests of 120 children and five women.
The total number of arbitrary arrests last year was up on 2014 (1,765) but down on 2013 (2,192), 2012 (2,221) and 2011 (2,929).
The UN Working Group on Arbitrary Detention, a UN body consisting of five experts, has repeatedly concluded that Bahrain has violated several international standards of a fair trial. In September of last year, the group found the detention of the secretary general of Al-Wefaq National Islamic Society, Sheikh Ali Al-Salman — this month sentenced to nine years imprisonment — to be arbitrary and "falls under category II and III of the Working Group's categories of arbitrary detention".
The five categories of arbitrary deprivation of liberty, according to the UN group are: when it is clearly impossible to invoke any legal basis justifying the deprivation of liberty (I); when the deprivation of liberty results from the exercise of the rights or freedoms (II); when the total or partial non-observance of the international norms (III); when asylum seekers, immigrants or refugees are subjected to prolonged administrative custody without the possibility of administrative or judicial review or remedy (VI); and when the deprivation of liberty constitutes a violation of international laws for reasons of discrimination (V).
In 2013, the UN Working Group on Arbitrary Detention found the imprisonment of Index on Censorship's Freedom of Expression Awards 2016 judge Nabeel Rajab (since pardoned) to be arbitrary, and, along with Index, called for his release.
Last year's arbitrary arrests of prisoners of conscience in Bahrain included Mohammed Mahdi Alekri, a member of Al-Wefaq's advisory board who was arrested on 4 January 2015 by security forces during a demonstration against the arrest of Al-Salman.
Also among those arrested was Sayed Sa'eed Isa, a member of The Martyrs Associate and father to Sayed Hashim Saeed, the 15-year-old boy killed during the security crackdown on demonstrations in Sitra late 2011.
The Bahraini authorities have continued to use arbitrary detention to silence political opponents and opposition supporters.

Latest posts by Ryan McChrystal
(see all)