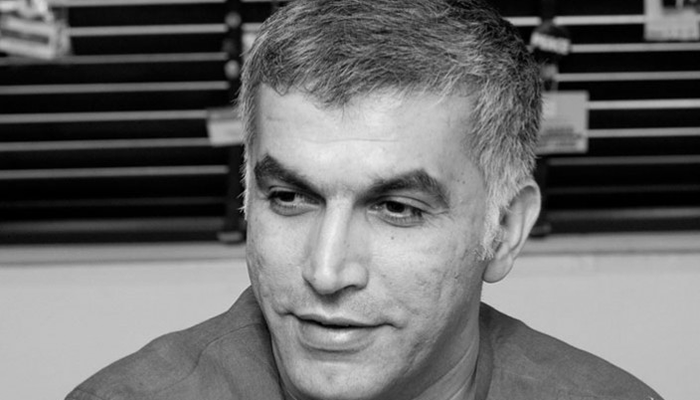 Nabeel Rajab, the prominent human rights activist who has been held in prison since June 13 2016, was due to be released on bail by order of a Bahraini court. However, he remains in Jau prison.
After the court ruling on 28 December, the public prosecution issued an order that continued Rajab's detention for seven days, citing further investigation into another case in which he is accused of "spreading false news," likely to be related to letters published in the New York Times and most recently in Le Monde newspapers. His seventh hearing is set for 23 January 2017.
The letter saw fresh charges brought against him for "undermining the prestige of the state". In it he wrote: "No one has been properly held to account for systematic abuses that have affected thousands." The Bahrain Centre for Human Rights, of which Rajab is the president, estimates that there are around 4,000 political prisoners in the country. Rajab also asked in his letter: "Is this the kind of ally America wants? The kind that punishes its people for thinking, that prevents its citizens from exercising their basic rights?"
Melody Patry, senior advocacy officer, Index on Censorship said: "The refusal to release Nabeel Rajab shows the lengths that the Bahraini government will go to to silence dissent. Nabeel's so-called crime was to express an opinion, something that cannot be taken for granted. Bahrain's repeated postponement of Nabeel's trial is emblematic of its wider approach to the human rights of its citizens. His continuing detention is unjust, cruel and disproportionate. We call on Bahrain to honour its international commitments to freedom of expression by releasing Nabeel."
Rajab has been in pre-trial detention since his arrest in June. His detention, much of it in solitary confinement, has caused a deterioration in his health.
The other charges against Rajab are in relation to remarks he tweeted and retweeted on Twitter in 2015 about the humanitarian crisis caused by the Saudi-led war in Yemen and documenting torture in Bahrain's Jau prison. In all, he stands accused of spreading false information, "criticising" the government and "insulting" Saudi Arabia.
A tweet by Index, which Rajab shared, is also to be used as evidence against him. It reads:
Index calls on #Bahrain to end judicial harassment of @NabeelRajab and drop all charges #opinionsarenotcrimes

— Index on Censorship (@IndexCensorship) March 14, 2015
He was first expected to be sentenced in October 2016, but the court has now postponed hearings for a sixth time, raising doubts about the reliability of evidence against him. His next trial date is 23 January 2017.
The US has called for Rajab's release "full stop", and the EU's top human rights official yesterday expressed his "hope" for Rajab's release. In September, the UN High Commissioner for Human Rights used his opening statement at the 33rd session of the Human Rights Council to warn Bahrain: "The past decade has demonstrated repeatedly and with punishing clarity exactly how disastrous the outcomes can be when a Government attempts to smash the voices of its people, instead of serving them."
On Tuesday 14 December, 23 MPs penned a joint letter to the Foreign Secretary calling on the UK government to demand the "unconditional release" of Nabeel Rajab from prison, and for the charges against him to be dropped. The letter signed by a cross-party group of MPs urges the UK to follow the lead of the US, the European Parliament, and the UN in calling for Bahrain to release Rajab.
On the same day, Index joined the Bahrain Institute for Rights and Democracy at a protest outside Downing Street and delivered a letter to UK Prime Minister Theresa May. The letter stated: "There is nothing bold in silence over clear human rights violations, and we urge you to now make a public call for Nabeel Rajab's immediate and unconditional release."
On 23 December, the UN's High Commissioner for Human Rights issued a statement calling for Rajab's release. His spokesperson stated: "Criticising the Government should not be the grounds for detention or prosecution and we call on the Bahraini authorities to immediately and unconditionally release Mr Rajab."
Rajab is the winner of a 2012 Index on Censorship Freedom of Expression Award, in part for his work speaking out against human rights violations committed by the Bahrain's government following a brutal crackdown on pro-democracy protests on 14 February 2011.