On 30 January 2016, Malaysian graphic designer Fahmi Reza posted an image online of Prime Minister Najib Razak in evil clown make-up. It found its way onto T-shirts, stickers, placards and graffiti. The image rapidly became an icon of anti-corruption protests in the country and a powerful symbol of resistance against an increasingly authoritarian government.
"Drawing evil clown make-up over Najib's official portrait was an act of defacing it, an act of sedition and defiance against a corrupt government that uses the Sedition Act to silence its critics," Reza said.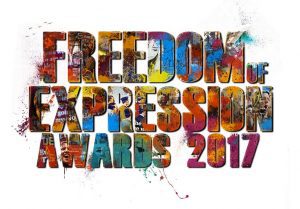 Despite the authorities' attempts to silence Reza, who was banned from travel and has since been detained and charged on two separate counts – which could see him spend five years in prison – under Malaysia's Communications and Multimedia Act, he has refused to back down.
In an act of solidarity, a graphic design collective called GRUPA started flooding Facebook and Twitter with its the clown-faced Najib along with the hashtag #KitaSemuaPenghasut ("we are all seditious").
What began as a small act of defiance by Reza has morphed into something much larger. He has used humour to criticise Razak, which is something the country's authorities are not used to dealing with.
Despite the charges against him, Reza says he "will not be cowed into silence" and vows to continue to use art as "a weapon to fight against the corruption of those in power".