Angolan rapper Luaty Beirão, also known by his stage name Ikonoklasta, has been instrumental in showing the world the hidden face of the country's president José Eduardo dos Santos, who has ruled oil-rich Angola since 1979. Beirão's politically-charged music is popular among many Angolans. "I sing against the Angolan regime to spread the word to people of my country," Beirão says.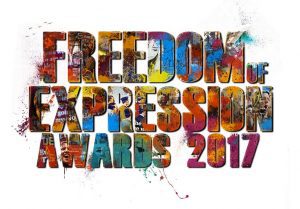 For his activism Beirão has been beaten, had drugs planted on him and, in June 2015, was arrested alongside 14 other people planning to attend a meeting to discuss a book on non-violent resistance. He was convicted of rebellion against dos Santos, criminal association and falsifying documents. In all, 17 activists were found guilty. Amnesty International they had been sentenced by a "kangaroo court".
During his year-long sentence – three months of which were on house arrest – Beirão spent 36 days on hunger strike.
Since his release, he has continued to perform, remain active and challenge the regime. He tried to stage a massive concert in November 2016 but the authorities refused to grant him a license. He published a book about his captivity, I Was Freer Then, about which he says: "I would rather be in jail than in a state of fake freedom where I have to self-censor."
Angolan activists, including @LuatyBeirao, attacked by police dogs during protest which called on minister & MP/VP candidate, to step down. pic.twitter.com/5bKSPP6J8g

— Zenaida Machado (@zenaidamz) February 24, 2017
On 24 February 2017, during a protest for greater transparency around elections, Beirão was bitten at least three times by two different police dogs. "In one of the occasions it was pretty bad," he told Index on Censorship. "A lot of people were badly injured that day. A few were temporarily detained and released after a few hours – you know, the usual."
See the full shortlist for Index on Censorship's Freedom of Expression Awards 2017 here.