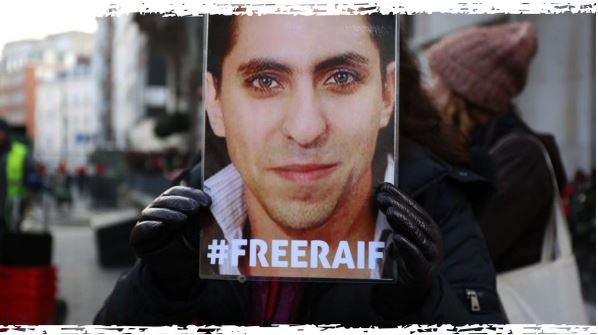 On 17 May 2017, Index on Censorship joined English Pen, Amnesty International and others in a protest of solidarity outside of the Saudi embassy in London to call for the release of blogger Raif Badawi.
Badawi was detained on 17 June 2012 for creating the website Free Saudi Liberals and "insulting Islam through electronic channels". Following his arrest, he was eventually sentenced to 10 years in prison and 1000 lashes, the first 50 of which he received in public in January of 2015.
One month away from the five-year anniversary of his arrest, Badawi's wife, Ensaf Haidar, led dozens of protesters at the embassy. Haidar has said her husband's mental health is worsening. This makes her pleas with world leaders to aid in the release of Badawi even more urgent. She has recently directly petitioned, among others, the governments of the UK, Germany and her new home of Canada.
.@miss9afi, wife of @raif_badawi, leads vigil at @SaudiEmbassyUK to #FreeRaif pic.twitter.com/BmmYerDe1g

— Index on Censorship (@IndexCensorship) May 17, 2017
Many activists have been protesting at the gates of the embassy for a long time to show their support. Cat Lucas of English Pen said: "We've been coming here for almost two and a half years on account of Raif."
Similarly, human rights campaigner Peter Tatchell said: "We're here once again to support the campaign to release Raif Badawi and we won't go away until he is free. Saudi Arabia has a duty to honour their commitments to the human rights law, as their crackdown is doing huge harm worldwide."
Jo Glanville, director of English Pen, urged the British government to put pressure on Saudi Arabia for the release of Badawi: ,"We are approaching five years since Raif was arrested for doing no more than exercising freedom of expression. We call on the Saudi government to release him immediately and also on the British government to use its very close relationship with the kingdom to ensure he receives the justice he deserves."
Badawi's situation is not unique, as Imad Iddine Habib of the Council of Ex-Muslims of Britain CEMB noted: "We're here to call for the immediate release of Raif Badawi who is unjustly in jail for expressing nothing more than his ideas and beliefs. He represents thousands of others who are in prison for similar reasons."
A huge thank you to everyone who joined today's #FreeRaif vigil. Your support means a great deal – to us & to his wife Ensaf Haidar. pic.twitter.com/j3Zle10bry
— English PEN (@englishpen) May 17, 2017