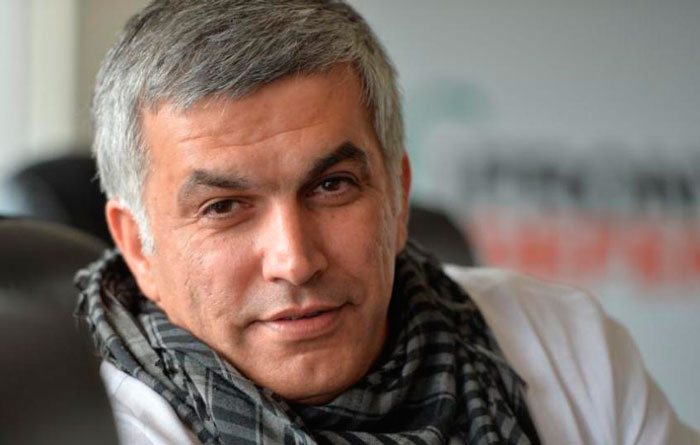 The trial of Bahraini human rights activist Nabeel Rajab has been delayed yet again. He was due to stand trial on Sunday 2 July, but this was postponed until 3 July and again until 10 July.
Rajab, president of the Bahrain Center for Human Rights and Index award winner, was arrested on 13 June 2016 and remains in prison despite a court order to release him on 28 December 2016. He faces four separate legal cases, the trials for two of which have been postponed over 20 times.
"We are particularly concerned about Rajab's health, which continues to deteriorate due to the poor conditions and mistreatment he receives in prison," said Melody Patry, head of advocacy at Index on Censorship. On 5 April 2017, Rajab underwent major surgery at a military hospital to remove ulcerated tissue from his lower back. He was returned to his cell at East Riffa Police Station two days later against medical recommendations.
Although defense plea wasn't heard by court, my Father will be sentenced on Monday in 1 of the cases against him. #FreeNabeel #Bahrain pic.twitter.com/upc9MA7plK

— Adam Nabeel Rajab (@AdamNabeel) July 4, 2017
"My father's fate is unknown. He might end up in a prison cell for the next 18 years, so it's difficult and tiring for him and for our family," Rajab's son Adam Rajab told Index today. "However, that does not mean he will ever stop his struggle for rights and freedom."
"We all know that my father will be released if he guarantees them that he will be silent, but he will not," Adam added. "He will always be a voice for the victims of human rights abuses and he will always stand against oppressors and dictators. As he always says 'I am willing to pay the price for freedom and democracy.'"
Index continues to express concern over the treatment of many human rights defenders in Bahrain including women's rights activist Ebtisam Al-Sayegh, who this week was arrested following a raid on her home and now risks being tortured.