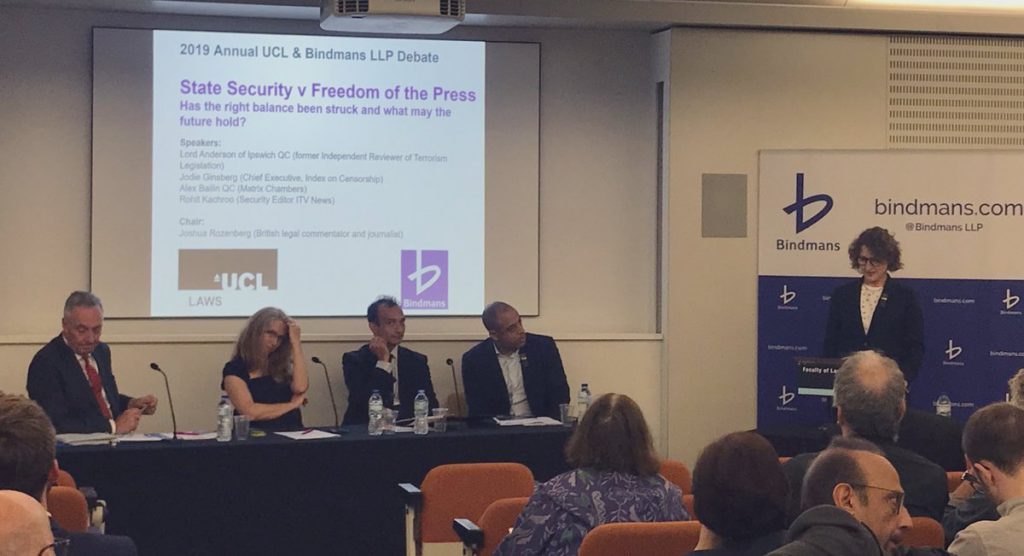 In discussing the scope of the recent Counter-Terrorism and Border Security Act 2019, international human rights lawyer Alex Bailin QC called the powers created by the new legislation "breathtakingly broad."
Joined by Index on Censorship CEO Jodie Ginsberg, former Independent Reviewer on Terrorist Legislation Lord David Anderson, and ITV News journalist Rohit Kachroo, Bailin parsed the new legislation and reflected on the challenges faced by journalists, particularly those reporting on terrorism, when operating within its confines.
The Counter-Terrorism and Border Security Act 2019 builds on previous counter-terrorism legislation like the Counter-Terrorism Act 2000, Counter-Terrorism Act 2008, and the Counter-Terrorism and Security Act 2015. Though it does contain a much lobbied-for carveout for journalists and academics looking at terrorist material on the internet for research purposes, the new legislation expands the range of offenses faced by citizens for viewing or even "expressing an opinion or belief that is supportive of terrorism and being reckless as to whether the audience may thereby be encouraged," Bailin noted. He continued that to him, "that does seem like thought crime."
A key problem with the legislation, noted several panellists, was the definition of journalism itself. While all in attendance were grateful that a journalistic carveout to the new legislation exists, each noted that journalism is no longer practiced in such a way that it is easy to discern who is a journalist and who is not.
"Everyone can see that it makes sense to include in some circumstances bloggers or people who reach a big audience through their tweets," said Lord Anderson. However, he noted that if people who use informal blogs or social media to whistleblow are included in the journalistic carveout, the carveout would essentially include all citizens who are capable of doing so–which would entail it including all citizens. "This diminishes the necessity of a special protection for journalists at all," he concluded. Bailin brought up famous leaks like the Pentagon Papers or Julian Assange and Wikileaks as moments when the line between private citizens and journalists has become blurred, but when protection of leakers has been essential.
Even in the case of traditional journalism, the new law could be harmful. Whistleblowing organised crime is essential, said Ginsberg, but it puts journalists at risk if police become involved. "If you're whistleblowing on organised crime and you think the journalist you're speaking to is not protecting you," she said, "you might choose to take out that journalist."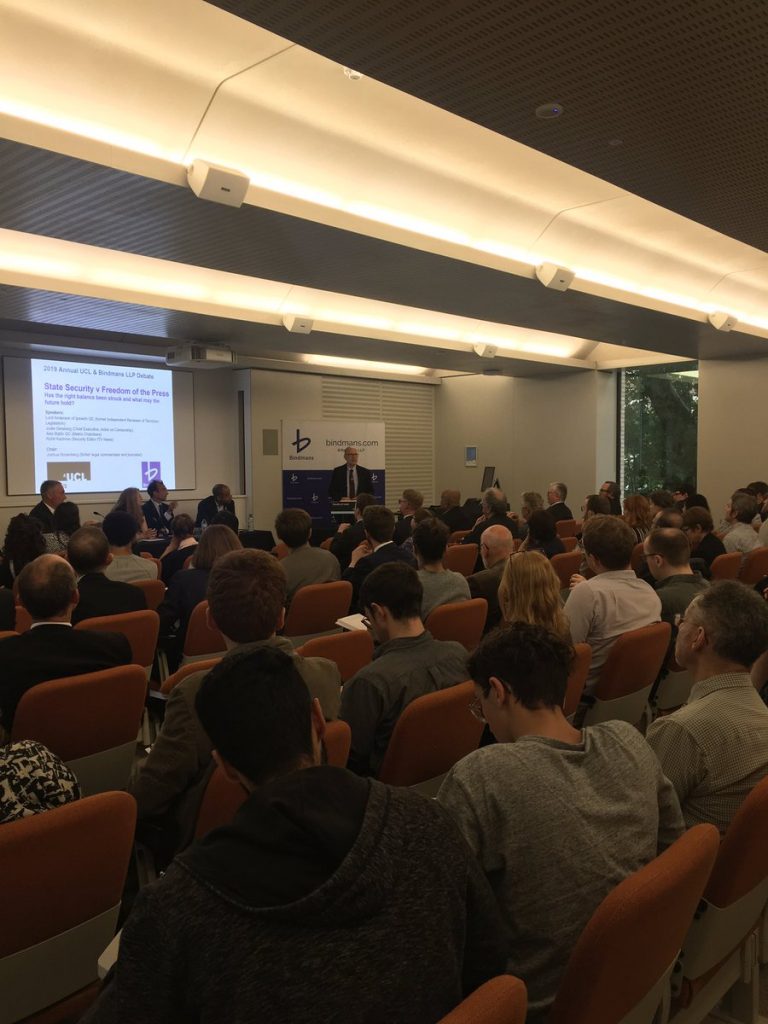 Kachroo explained that journalists refusing to co-operate with law enforcement in order to protect their sources, which sometimes come from deep within organisations like al-Qaeda, does not mean that journalists are pro-terrorism or should be prosecuted as such. Rather, source protection ensures that journalists maintain relationships within crime organisations and not endanger the people who help to undercut them, which could be thwarted by police intervention.
"We're not on the side of terrorists because we don't take sides, but that works both ways. We're not working hand in hand with the state and we cannot be seen to be working hand in hand with the state," he said. With legislation like the Counter-terrorism and Border Security Act 2019, he said that "there's a sense of being co-opted into the police's work, unwillingly, because of the increased use of production orders."
Not only does this endanger the lives of journalists, but it defeats the purpose of journalism itself. What is investigative journalism if not the quest to uncover corruption wherever it might appear, even and especially if in the government itself? "One of the key roles that journalism plays within a democracy is to expose wrongdoing," Ginsberg explained. By the end of the discussion, it was unclear if, in the presence of increasingly powerful terrorist legislation, journalism will continue to be able to serve that purpose.