[vc_row][vc_column][vc_video link="https://youtu.be/aRODwaISqKo"][vc_column_text]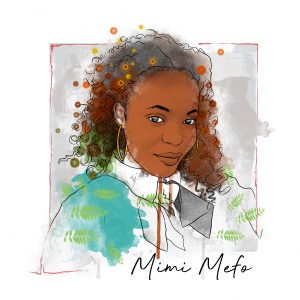 Mimi Mefo is one of less than a handful of journalists working without fear or favour in Cameroon's climate of repression and self-censorship. An award-winning broadcast journalist at private media house Equinoxe TV and Radio, Mefo is courageous in her commitment to the truth, journalistic integrity and freedom of expression.
Through broadcast reports, social media and a newly founded website, Mefo informs Cameroonians about the escalating violence in the country's western regions, in a conflict that has become known as the "Anglophone Crisis". The conflict has caused hundreds of deaths, including civilians, and has exacerbated the already critical condition of media freedom.
The Cameroonian government has long been a direct threat to the press and has recently intimidated and arrested journalists accusing them of supporting terrorists. Between January 2017 and November 2018, at least 15 journalists were detained. Four are still behind bars.
At the same time, the separatist movement has also grown increasingly intolerant to critical media, and journalists like Mefo have been caught in a double-barrelled threat. Mefo has herself been followed home by mysterious cars and faced intimidation, online harassment and imprisonment.
Her job might be under threat, too, as her employer is coming under growing government pressure because of her defiant line. Equinoxe has already been temporarily forced off the air by Cameroonian police in the past, and now faces new threats of sanctions for Mefo's coverage of the crisis. Her boss has been questioned by government officials, who complained about her reporting and told him she needs to be "reined in".
Mefo has denounced the harassment of other Cameroonian journalists and used her digital media to inform the public about the abuses and amplify campaigns calling for the release of those jailed.
Her impact has been tangible: one of her tweets denouncing the poor health of journalist Thomas Awah Junior in prison was shared widely, and only then was he allowed to receive treatment. She was also behind the social media campaign that led to the release of Josiane Kouagheu and Mathias Mouende Ngamo hours after they were arrested on 21 and 27 October.
In September 2018 she founded her own website, Mimi Mefo Info, where she publishes updates from her reporting on the ground. After she published reports that the military was behind the death of an American missionary, she was arrested on 7 November on charges of "publishing and propagating information that infringes on the territorial integrity of the Republic of Cameroon". A social media campaign and pressure from Equinoxe and international organisations were able to secure her release on 10 November. Mefo resumed reporting immediately.[/vc_column_text][vc_separator][vc_row_inner][vc_column_inner width="1/2″][vc_single_image image="104691″ img_size="full" onclick="custom_link" link="https://www.indexoncensorship.org/2019/01/awards-2019/"][/vc_column_inner][vc_column_inner width="1/2″][vc_column_text]
Index on Censorship's Freedom of Expression Awards exist to celebrate individuals or groups who have had a significant impact fighting censorship anywhere in the world.[/vc_column_text][/vc_column_inner][/vc_row_inner][vc_separator][/vc_column][/vc_row][vc_row][vc_column][vc_basic_grid post_type="post" max_items="4″ element_width="6″ grid_id="vc_gid:1553854718059-c3a931fd-6c29-7″ taxonomies="26925″][/vc_column][/vc_row]