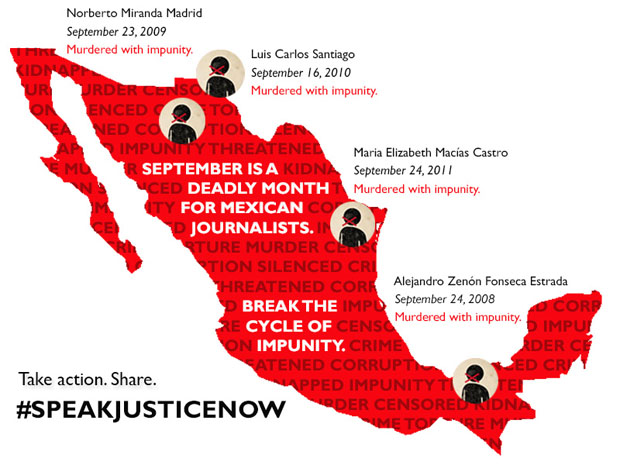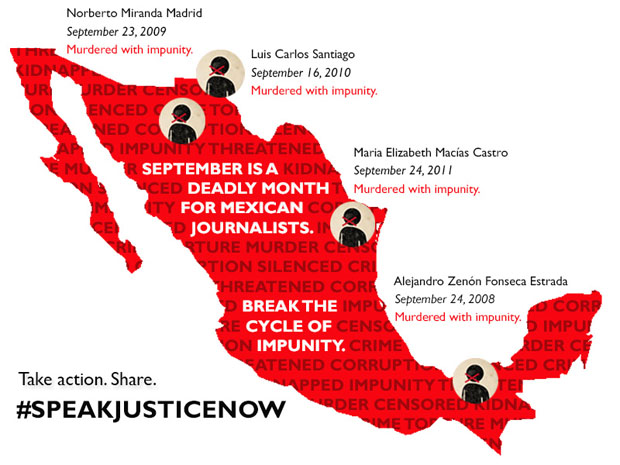 This September marks the anniversary of the murders of four Mexican journalists. Alejandro Zenón Fonseca Estrada, Norberto Miranda Madrid, Luis Carlos Santiago and Maria Elizabeth Macías Castro were each killed within a year of each other, from 2008 to 2011. They were all covering drug cartels and corruption, and not a single person has been brought to justice in these murder cases.
Alejandro Zenón Fonseca Estrada, 33, host of a popular morning call-in show called "El Padrino Fonseca" (The Godfather Fonseca) was gunned down on September 24, 2008, by unidentified men as he was hanging up anti-violence posters.
Norberto Miranda Madrid, 44, was a Web columnist and host for the online station Radio Visión. He was shot multiple times by two masked gunmen in the offices of the radio station on September 23, 2009.
Luis Carlos Santiago worked as a photographer with the local daily El Diario. On September 16, 2010, he was shot and killed by unidentified gunmen. He was 21.
Maria Elizabeth Macías Castro, 39, tweeted about activities of criminal groups and covered the topic on the website Nuevo Laredo en vivo (Nuevo Laredo Live) using the pen name "La NenaDLaredo" (The girl from Laredo). On September 24, 2011, her decapitated body was found with a note that identified the website and her pseudonym.
Speak Justice Now is a campaign against impunity by the Committee to Protect Journalists. We encourage you to join thousands around the world to tweet Mexican President Enrique Peña Nieto today demanding an end to impunity using the hashtag #SpeakJusticeNow.