Stand Up For Satire, hosted at the Union Chapel in Islington on 30 July, brought together some of the UK's top comedians for a night of championing free expression and satire in support of Index on Censorship.
Host Al Murray was joined by a stellar line-up of stand-up comics before a sell-out crowd of 900. Shappi Khorsandi, the host of Index's 2015 Freedom of Expression Awards, kicked off the evening and joked: "The Iranian regime advocates free speech, but only before not after the expression." She was followed by Irish comic Grainne Maguire and then comedian, rapper and actor Doc Brown.
Just before the interval, Heydon Prowse from BBC Three's The Revolution Will Be Televised spoke of the importance of free expression within satire, and appealed to the audience to support Index's work. Prowse will be joined by Revolution Will Be Televised-partner Jolyon Rubinstein and the cast of Zambezi News, Zimbabwe's leading satirical news show, in a comedy event hosted by Index on 27 August.
The second half saw performances from comedian and actress Kerry Godliman, and comic and writer Frankie Boyle, before Irish stand-up Andrew Maxwell closed the show.
At the Union Chapel for @IndexCensorship Stand Up for Satire gig. Should be good! pic.twitter.com/X4wspA2JGG

— David Farbey (@dfarb) July 30, 2015
The magnificent Union Chapel is filling up for @IndexCensorship's Stand Up For Satire event. Up to 900 here tonight. — David Aaronovitch (@DAaronovitch) July 30, 2015
Al Murray kicking off #standupforsatire @UnionChapelUK @IndexCensorship pic.twitter.com/u63ZGoK6rf — sean maguire (@Sean_A_Maguire) July 30, 2015
Here's @almurray swearing in church for the excellent cause that is @IndexCensorship… pic.twitter.com/6VIfqsouDd

— Tom Holland (@holland_tom) July 30, 2015
.@almurray owning it at @IndexCensorship gig to raise money for satirists in less permissive societies. Donate now pic.twitter.com/BhJwp9JmL0 — Heydon Prowse (@HeydonProwse) July 30, 2015
Union Chapel Selfies @IndexCensorship pic.twitter.com/TmGNOMFtNR

— Al Murray the 318 (@almurray) July 30, 2015
brilliant @IndexCensorship stand up for satire gig with @almurray (he told me off for taking this pic) pic.twitter.com/whfZ2ZRlxD — Jessica Elgot (@jessicaelgot) July 31, 2015
Am biased but #StandUpforSatire was bloody funny. Thanks @almurray @ShappiKhorsandi @GrainneMaguire @docbrown88 (2nd half thanks to follow)

— Jodie Ginsberg (@jodieginsberg) July 31, 2015
And very big thanks to @KerryAGodliman @frankieboyle @andrewismaxwell #StandUpforSatire — Jodie Ginsberg (@jodieginsberg) July 31, 2015
Fabulous night tonight with @almurray@frankieboyle@GrainneMaguire at @IndexCensorship + many more #standupforsatirepic.twitter.com/6MkuxFpb36

— Sue Black (@Dr_Black) July 30, 2015
---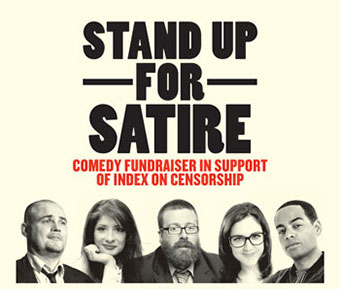 Index on Censorship has been publishing articles on satire by writers across the globe throughout its 43-year history. Ahead of our event, Stand Up For Satire, we published a series of archival posts from the magazine on satire and its connection with freedom of expression.
14 July: The power of satirical comedy in Zimbabwe by Samm Farai Monro | 17 July: How to Win Friends and Influence an Election by Rowan Atkinson | 21 July: Comfort Zones by Scott Capurro | 24 July: They shoot comedians by Jamie Garzon | 28 July: Comedy is everywhere by Milan Kundera | Student reading lists: Comedy and censorship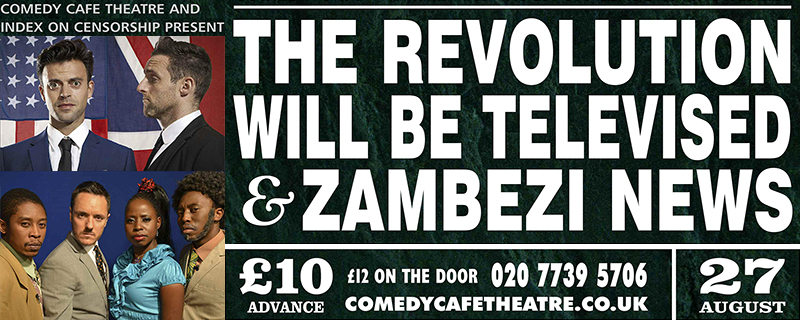 ---
This artilce was posted on 31 July 2015 at indexoncensorship.org