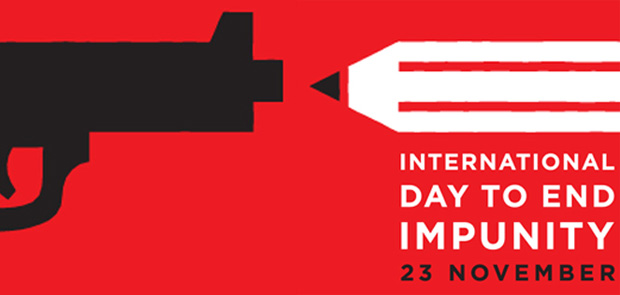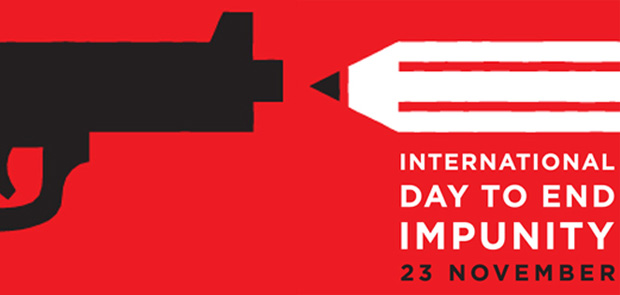 Tomorrow is International Day To End Impunity. "When someone acts with impunity, it means that their actions have no consequences"  explains IFEX, the global freedom of expression network behind the campaign. Since 1992, 600 journalists have been killed with impunity — that is 600 lives taken with all or some of those culpable not being being held responsible. Countless others — writers, activists, musicians — have joined their ranks, simply for exercising their right to freedom of expression.
This year has only added to the grim statistics. By the middle of January, six journalists had already been murdered. We are now getting close to the end of 2013, and 73 more journalists and two media workers have suffered the same fate — 48 in cases directly connected to their work, 25 with motives still unconfirmed. Out of these, 15 were killed without anyone — perpetrators or masterminds — convicted.
Russia is notorious for its culture of impunity. In July this year, Akhmednabi Akhmednabiev, a Russian journalist reporting on human rights violations in the Caucasus, was shot dead. In 2009 he had been placed on an "execution list" on leaflets distributed anonymously, and had in the past also received death threats. In January he survived an assassination attempt which local authorities reportedly refused to investigate. His case is still classed as murder with impunity.
Pakistan is also an increasingly dangerous place to work as a journalist. Twenty seven of the 28 journalists killed in the past 11 years in connection with their work have been killed with impunity. In the last year alone, seven journalists have been murdered. Express Tribune journalist Rana Tanveer told Index he has received death threats and been followed for reporting on minority issues. In October, Karak Times journalists Ayub Khattak was gunned down after filing a report on the drugs trade.
In July, Honduran TV commentator Aníbal Barrow was kidnapped together with his family and a driver. The others were released, but after two weeks, Barrow's body was found floating in a lagoon. He was the second journalists with links to the country's president Porfirio Lobo Sosa — they were close friends — to have been killed over the past two years. Four members of the criminal group "Gordo" were detained in connection with the case, but at one point, there were at least three other suspects on the run.
In September, Colombian lawyer and radio host Édison Alberto Molina was shot four times while riding on his motorcycle with his wife. His show "Consultorio Jurídico" (The Law Office), aired on community radio station Puerto Berrío Stereo, and often took on the topic of corruption. The Inter American Press Association in October called on authorities to open "a prompt investigation into the murders" of him and news vendor and occasional stringer José Darío Arenas, who was also killed in September.
Meanwhile in Mexico, a country for many synonymous with impunity for crimes against the media, three journalists were murdered in 2013. The state public prosecutor's offices has yet to announce any progress in the cases of Daniel Martínez Bazaldúa, Mario Ricardo Chávez Jorge and Alberto López Bello, or disclose whether they are linked to their work. Notorious criminal syndicate Zetas took responsibility for the murder of Martínez Bazaldúa and warned the police about investigating the case. He was a society photographer and student, only 22 at the time of his death. Chavez Jorge, founder of an online newspaper, disappeared in May and his body was found in June, but in August the state attorney's office said they did not have a record of his death. López Bello was a crime reporter who had published stories on the drugs trade.
This year, 20 journalists — from Naji Asaad in January to Nour al-Din Al-Hafiri in September — have also lost their lives covering the ongoing tragedy of the Syrian civil war. Their loved ones, like those of all the civilians killed, will have to wait for justice.
It is also worth noting that while an unresolved or uninvestigated murder is the most serious and devastating manifestation of impunity, it is not the only one. Across the world, journalists are being attacked and intimidated without consequences. In August there was a two-hour long raid on the home of Sri Lankan editor and columnist Mandana Ismail Abeywickrema, who recently started a journalists' trade union. Despite her receiving threats related to her work prior to the attack, it was labelled a robbery by the police. Bahraini citizen journalist Mohamed Hassan experienced similar incident, also in August, when he was arrested and his equipment seized during a night-time raid. His lawyer Abdul Aziz Mosa was also detained and his computer confiscated, after tweeting about his client being beaten. In October, a group of Azerbaijani journalists were attacked by a pro-government mob while covering an opposition rally in the town of Sabirabad. One of the journalists, Ramin Deko, told Index of regular threats and intimidation.
International Day To End Impunity is a time to reflect on these staggering figures and the tragic stories behind them. More importantly, however, it represents an opportunity to stand up and demand action. Demand that Russia's President Vladimir Putin, Mexico's President Enrique Peña Nieto, Pakistan's President Mamnoon Hussain and the rest of the world's leaders provide justice for those murdered. Demand an end to the culture of impunity in which journalists, writers, activists, lawyers, musicians and others can be intimidated, attacked and killed simply for daring to speak truth to power. Visit the campaign website to see how you can take action.