[vc_row][vc_column][vc_video link="https://youtu.be/d40JdCJTbw8″][vc_column_text]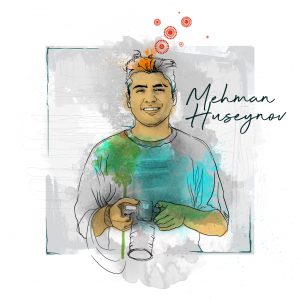 Mehman Huseynov is a journalist and human rights defender who documents corruption and human rights violations in Azerbaijan, consistently ranked among the world's worst countries for press freedom.
He was sentenced to two years in prison in March 2017 — after describing abuses he had suffered at a police station.
As independent journalist, vlogger, and editor-in-chief of the political magazine SANCAQ, Huseynov has put his life in danger to document largely sensitive issues. His work circulated widely on the internet, informing citizens about the real estate and business empires of the country's government officials, and scrutinising the decisions of president Ilham Aliyev.
Huseynov was first arrested in 2012 for his role in the Sing for Democracy protests against the profligate spending on the 2012 Eurovision contest in Baku, and since then has been regularly interrogated by authorities, who imposed a travel ban on him and confiscated his documents – preventing access to services like health-care and education. In 2013, Huseynov was awarded one of the Fritt Ord Foundation's and the ZEIT Foundation's press prizes for his courageous journalism.
Azerbaijan is an authoritarian country in which power is heavily concentrated in the hands of president Ilham Aliyev, who has ruled the country since 2003. There is little room for independent expression or activism, and critical journalists, civil society leaders and human rights advocates face harassment, violence and detention.
On 9 January 2017 plain-clothes officers attacked Huseynov, blindfolded and gagged him with towels, forced a bag over his head and took him to the Nasimi district police station, where police used an electroshock weapon on his groin and punched him.
On 17 October 2018, Baku Court of Appeal dismissed his appeal against the denial of parole.
Before his release from prison in March 2019, Huseynov remained defiant, saying: "I am not here only for myself; I am here so that your children are not in my place tomorrow. If you uphold the judgement against me, you have no guarantees that you and your children will not be in my place tomorrow."[/vc_column_text][vc_separator][vc_row_inner][vc_column_inner width="1/2″][vc_single_image image="104691″ img_size="full" onclick="custom_link" link="https://www.indexoncensorship.org/2019/01/awards-2019/"][/vc_column_inner][vc_column_inner width="1/2″][vc_column_text]
Index on Censorship's Freedom of Expression Awards exist to celebrate individuals or groups who have had a significant impact fighting censorship anywhere in the world.[/vc_column_text][/vc_column_inner][/vc_row_inner][vc_separator][/vc_column][/vc_row][vc_row][vc_column][vc_basic_grid post_type="post" max_items="4″ element_width="6″ grid_id="vc_gid:1552914689259-de127fad-fb34-7″ taxonomies="26925″][/vc_column][/vc_row]