[vc_row][vc_column][vc_column_text]This article is part of Index on Censorship partner Global Journalist's Project Exile series, which has published interviews with exiled journalists from around the world.[/vc_column_text][vc_column_text]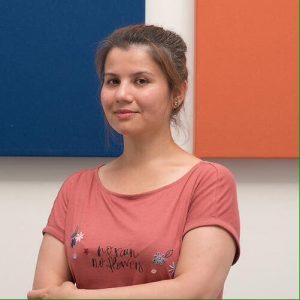 The calls came to Tajik journalist Humayra Bakhtiyar at her sports club, at the shopping center and at home. Whatever she was doing, agents from Tajikistan's State Committee for National Security wanted her to know that they knew about it. 
Then there were the social media attacks by pro-government trolls: the unflattering photoshopped images of Bakhtiyar and innuendo about her family on Facebook. There were reports attacking her in government media. Finally, there was the official from the former Soviet republic's security service, still known colloquially as the KGB, who came to the office asking about her family members and why she was putting herself in such a dangerous situation. Would she consider spying on her colleagues for him?
At issue was Bakhtiyar's reporting on corruption, human rights and other sensitive issues in the central Asian nation for news outlets including the Russian-language Asia-Plus news site, the Institute for War and Peace Reporting and Turkey's Anadolu Agency.
Such reports were particularly sensitive during presidential elections in 2013 and parliamentary elections in 2015, both won by the ruling party of Tajik President Emomali Rahmon amid criticism from outside observers. Fearing for her safety and that of her family, Bakhtiyar moved to Germany in 2015. 
President Rahmon, whose official titles include "Founder of Peace and National Unity," has ruled the country of 9 million since 1992 in part by imposing severe restrictions on the media. In 2019 Tajikistan ranked 161st of 180 countries on Reporters Without Borders World Press Freedom Index, which notes that much of the country's independent media has been eliminated. "Harassment by the intelligence services, intimidation and blackmail are now part of the daily routine" for journalists in the country, according to the Paris-based press freedom group. 
The U.S.-backed Radio Free Europe/Radio Liberty, one of the few independent news organizations to operate in the country, is routinely blocked by the government – despite criticism that an RFE/RL local language affiliate has itself become a voice for government propaganda. But RFE/RL is far from alone in facing censorship. Following the killing of four foreign tourists by Islamic State militants last year, much of Tajikistan's internet was shut down. 
Now living in Hamburg, Germany, Bakhtiyar spoke with Global Journalist's Kyle LaHucik about her budding career as a Tajik journalist and the threats she faced for reporting criticism of the government. Below, an edited version of their conversation:
Global Journalist: Why did you want to go in to journalism?
Bakhtiyar: I wanted to become a diplomat in my school years. But later, I understood that my family cannot pay for me. I never wanted to become a journalist, but when I started to study, I really loved it. From my third year, I started to work full time. From early morning I'd work, and then in the afternoon I went to university to study. From 2007 to 2009, I worked overnight. Many times I slept in my office. 
GJ: What subjects did you report on?
Bakhtiyar: At first, I started with social issues. But in early 2008, I was sent to parliament to report. [At] first, I really hated it because it was so boring to listen to the old men talking. But later I started to [take] interest. What does it mean? Why are they sitting there? Why are they writing what they are writing? For whom?
…After that, I started to be interested much more about the government, about who is in government, about nepotism and human rights. 
GJ: Tell us about some of the human rights and government issues that interested you.
Bakhtiyar: People really don't have any rights. When you are getting married, girls have to have this test or papers that say they reserved their virginity and can marry. Even Tajik emigrants who have to move to Russia for work, they also don't have any rights in Russia and really no rights in Tajikistan. When you go to the hospital there is not good service, and for some doctors you have [pay bribes] because they have really low salaries. 
But from Tajikistan government news you will get information that you are really living in some paradise.
GJ: How did the government try to silence you?
Bakhtiyar: I worked more or less 10 years in Tajikistan. I covered all issues: government, parliamentary corruption, nepotism, and the financial system, which is so horrible. 
In early 2013, I got some messages from the KGB, the security police: I have to be careful writing, I have to stop covering some issues. In 2013 we had a presidential election, so that's why I think the security police started to control all mass media. They started to talk to every editor first. They started to push journalists through the editors. Three or four times they contacted my chief editor at a Tajik newspaper and advised them to stop me. 
My chief editor informed me every time that the security police want to talk to me. They have some special topic they want to discuss. Every time I ignored this. I said, "I don't have anything to share with them."
Later, they came to my office to talk with me. They asked that I talk to them, and when I talked, they asked me to come to the security office. I didn't want to go because I was afraid. I heard how some activists and journalists have had some accidents that year.  I said that if you have any official reasons to talk to me, you have to send me an official letter [that states] why, who you are, why you want to talk to me.
GJ: What did the internal security agent say in response?
Bakhtiyar: [He asked] "How are you living? How is your family? What is your father doing? Where is your mother? Is she alive? How are your brothers?"
I got the message that he already knew everything about my life. My parents are divorced for 18 years [something] I never shared with my colleagues. I lived with my father and my stepmother. 
He asked me: "Do you have good relations with your stepmom?"
I tried to be so calm. I told him: "If you are so interested in my family, one day you should come for dinner and I can introduce you to them if they are so important for your office." 
He started to change our conversation and said, "You are so young, so young and so beautiful. Why are you trying to put yourself in a dangerous situation?…You are doing wrong things, your opinion is wrong, everything that you said is bad in our country is not bad. We should keep our peace. You should support our government, it is [a] really nice government."
I said, " I don't want to hear from you…[I] suggest you're free to go."
And he just said, "You can write something as you want, but you can work with us. For example, share about what people are talking [about] around you, especially in your office, your colleagues." 
I was so angry, I asked him, "Are you serious?"
Then he started to call me many times and every time when he calls me he informed me that he knows where I am at that moment: when I was at home, when I was at my office, when I was in the shopping center or even my sports club. He really persecuted me and later I started to feel that some people are following me on the street, but I tried to ignore it. 
GJ: Did this continue? 
Bakhtiyar: Later they started a social attack. There were many, many of my photos published on social media, some Russian social media but mostly Facebook, because I was really active on Facebook. There were many of my photos [that were] Photoshopped and many, many wrong and dirty rumors about my life, about my family. They started to write that I have some psychological problem because I grew up with a stepmother. All the time I knew that they have just one goal: they want to see me out of journalism.
In 2015, we had a parliamentary election. I was really so active, I wrote about it. In some government newspapers they wrote some articles against me. It makes you a bit tired, morally. During this moment, one of my friends in Tajikistan, my colleague and my friend, he [suggested] that maybe I can get some scholarship outside for a short time and maybe it can help me to get a bit of rest. When I will be out of Tajikistan, they cannot see me every day. Maybe they will forget about me. I was really, really tired to live under such pressure. 
We found a scholarship at [German news network] Deutsche Welle in Bonn, Germany in May 2015. They said that you are free, you can write about anything. Immediately after my second article, the Deutsche Welle editor got a letter of complaint from the Ministry of Foreign Affairs of Tajikistan. They invited a Deutsche Welle correspondent in [Tajik capital] Dushanbe in and pushed him to say how I got an internship. What am I doing in Deutsche Welle in Bonn? Who helped me? Why am I writing from Germany about Tajik issues?
My editor just told me: "Don't be afraid…we will stand behind you. Just continue what you think is right." 
And I continue to write. [/vc_column_text][/vc_column][/vc_row][vc_row][vc_column width="1/2″][vc_video link="https://youtu.be/6BIZ7b0m-08″][/vc_column][vc_column width="1/2″][vc_column_text]Index on Censorship partner Global Journalist is a website that features global press freedom and international news stories as well as a weekly radio program that airs on KBIA, mid-Missouri's NPR affiliate, and partner stations in six other states. The website and radio show are produced jointly by professional staff and student journalists at the University of Missouri's School of Journalism, the oldest school of journalism in the United States. [/vc_column_text][/vc_column][/vc_row][vc_row][vc_column][vc_custom_heading text="Don't lose your voice. Stay informed." use_theme_fonts="yes"][vc_separator color="black"][vc_row_inner][vc_column_inner width="1/2″][vc_column_text]Index on Censorship is a nonprofit that campaigns for and defends free expression worldwide. We publish work by censored writers and artists, promote debate, and monitor threats to free speech. We believe that everyone should be free to express themselves without fear of harm or persecution – no matter what their views.
Join our mailing list (or follow us on Twitter or Facebook). We'll send you our weekly newsletter, our monthly events update and periodic updates about our activities defending free speech. We won't share, sell or transfer your personal information to anyone outside Index.[/vc_column_text][/vc_column_inner][vc_column_inner width="1/2″][gravityform id="20″ title="false" description="false" ajax="false"][/vc_column_inner][/vc_row_inner][/vc_column][/vc_row][vc_row full_width="stretch_row_content"][vc_column][three_column_post title="Global Journalist / Project Exile" full_width_heading="true" category_id="22142″][/vc_column][/vc_row]