In memory of Nadine Gordimer
Index remembers the Nobel and Booker Prize winning author, activist and long-time Index supporter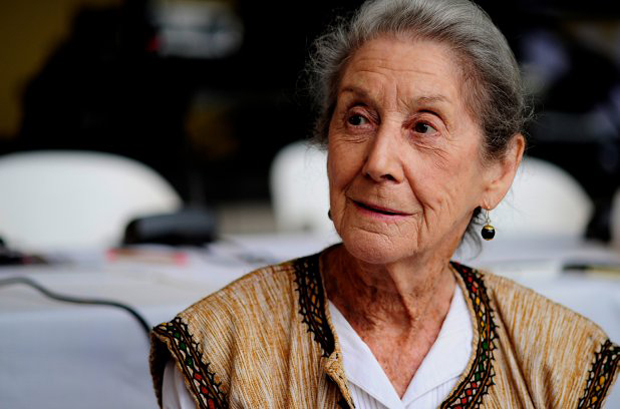 Index on Censorship remembers Nadine Gordimer, who died today at 90. The South African author, winner of the Nobel Prize for Literature and the Booker Prize among many other honours, was a long-time Index supporter and patron. She wrote for Index on Censorship magazine a number of times, including in its first year. Gordimer was also involved in the anti-apartheid movement, and much of her work deals with issues of politics and race. Three of her books – Burger's Daughter, A World of Strangers, The Late Bourgeois World – were banned by the apartheid regime.
Ursula Owen was editor of Index magazine in 1994, when South Africa held its first free election. An issue of the magazine celebrated the historic event with an article by Gordimer, among others.
Owen said: "I remember visiting her in the late 90s, together with Adewale Maya Pearce, when I was running Index. We sat in her garden in Johannesburg. She was attentive and full of energy, and talked with great passion about what was going on in post-apartheid South Africa. Later we went to supper with Helen Suzman – an extraordinary experience to spend time in the same room with these two remarkable women. Awesome, as my granddaughters would say."
Jayne Whiffin, publisher of Index magazine, said: "I am very sad to hear of Nadine Gordimer's passing today. Nobody growing up in South Africa in the 1980s and 1990s could be unfamiliar with her work, and her short story, Message in a Bottle has great personal significance for me as the first piece of writing I encountered of hers while at school in South Africa. Her writing was an exemplar of how fiction can tell the truth even under the most strenuous forms of oppression, and she will be sorely missed both in South Africa and around the world."
In celebration of her remarkable life, Index has created a collection of Gordimer's articles that appeared in the magazine. These are free to read until 14 September.
Apartheid and censorship [1972]
Standing in the queue [1994]
Act two: one year later [1995]
Rushdie revisited [2008]
This article was posted on July 14, 2014 at indexoncensorship.org