Untitled, @MuradSubay, 14/4/16
15 Apr 2016
BY INDEX ON CENSORSHIP
Words by Alessio Perrone and Sean Gallagher
Photos: Sean Gallagher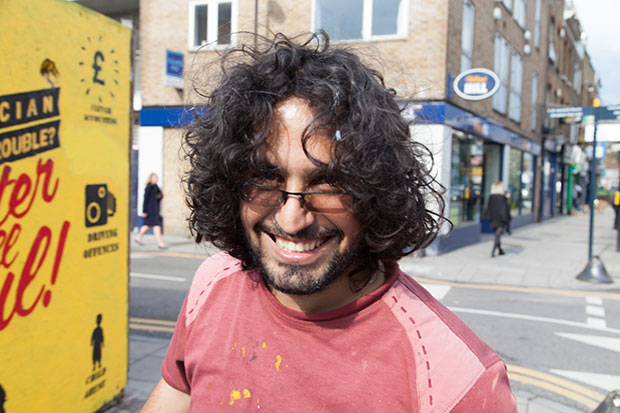 "I invite people like this: I just say – you paint now." That's how it works with street artist Murad Subay.
His murals grew from the frustration he felt as his homeland, Yemen, descended into chaos and factionalism. Amid the destruction and anger, Subay picked up his brush. With friends, he went out into the streets and began painting in broad daylight. Days passed, then people from the community joined him. All of them driven by their desire for peace amid Yemen's civil war.
Since 2011 he's created campaigns to encourage Yemenis to express their outrage at what their country has become. He and his collaborators have coloured walls, named the disappeared and marked ruins.
He always works during the day. It's always part performance, part collaboration. Thursday 14 April was no different. Only the location had changed.
For his first mural outside Yemen, Subay took his brushes and paint to the corner of Hackney Road and Cremer Street to send a pointed message about the international community's lack of humanity, especially toward his homeland. Even dogs are better than some of the global institutions and structures.
In London, to receive the 2016 Freedom of Expression Arts Award for his work, which Subay stressed is for Yemen. His acceptance speech was dedicated to the "unknown people who struggle to survive".
Invited by Jay, the community curator of Art Under the Hood, Subay set up his equipment — with the help of new friends — and began transforming a hoarding into his vision using stencils he had laboured over since arriving on Saturday.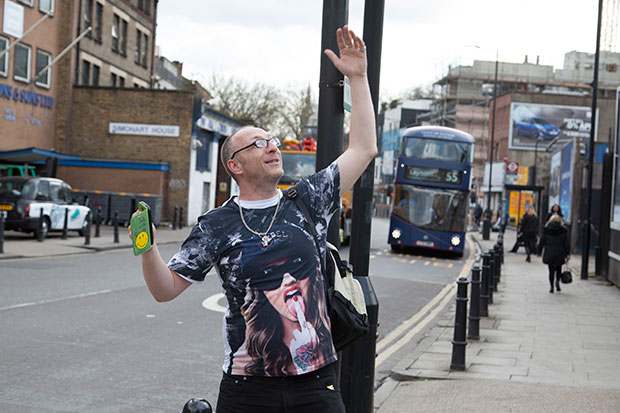 "I'm doing a sun dance."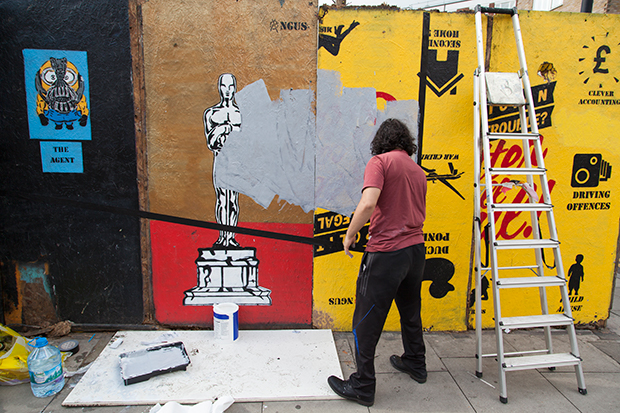 "I'm not the type of artist who zones out and thinks this is precious. It's an ordinary thing for me"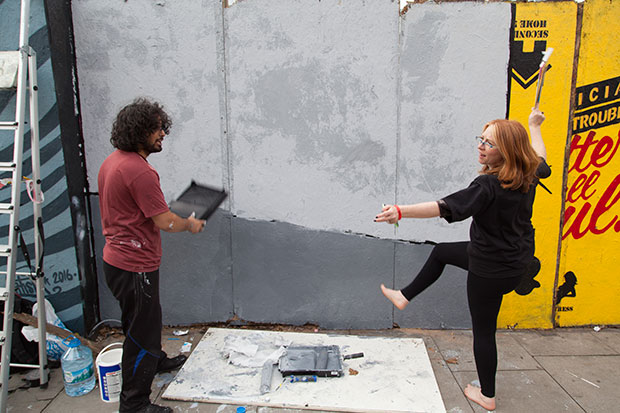 "How long will it take for it to dry?"
"In Sana'a, three minutes!" Then a few seconds later "Here, I don't know"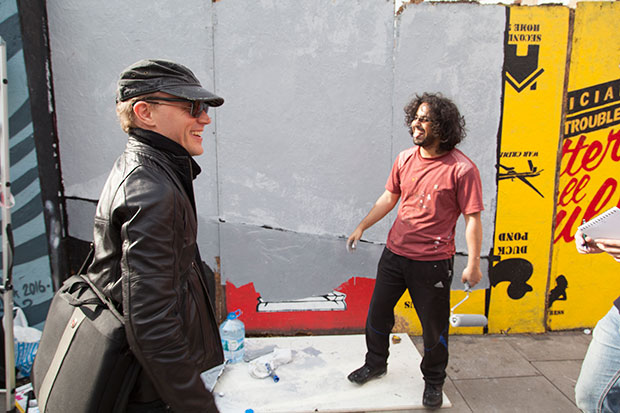 "Do you want me to do anything"
"Yes of course. Come here"
"Welcome to the holy state of Hackney, my friend. This is not a borough, not a city, it's a state."
"I've worked on these stencils from time to time for four days. It's hard to say how long it takes. Sometimes it takes three, four hours, other times five … Depends on what I do"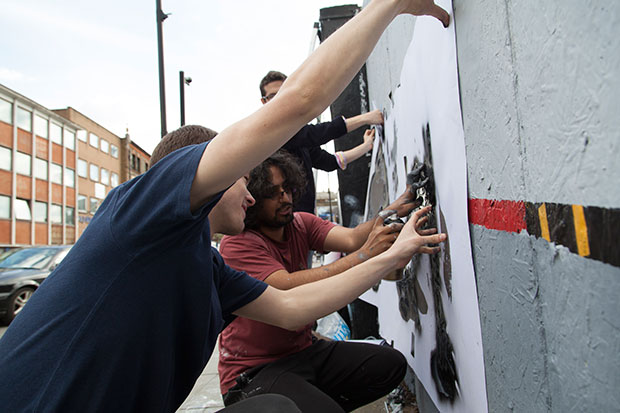 "First, try it on the cardboard to see how strong or light it is. Then press in the shape, light, not strong. Keep it at an angle close to the margins, so you can make sure you don't spray outside the shape. Then perpendicular in the middle. Keep it light, light!"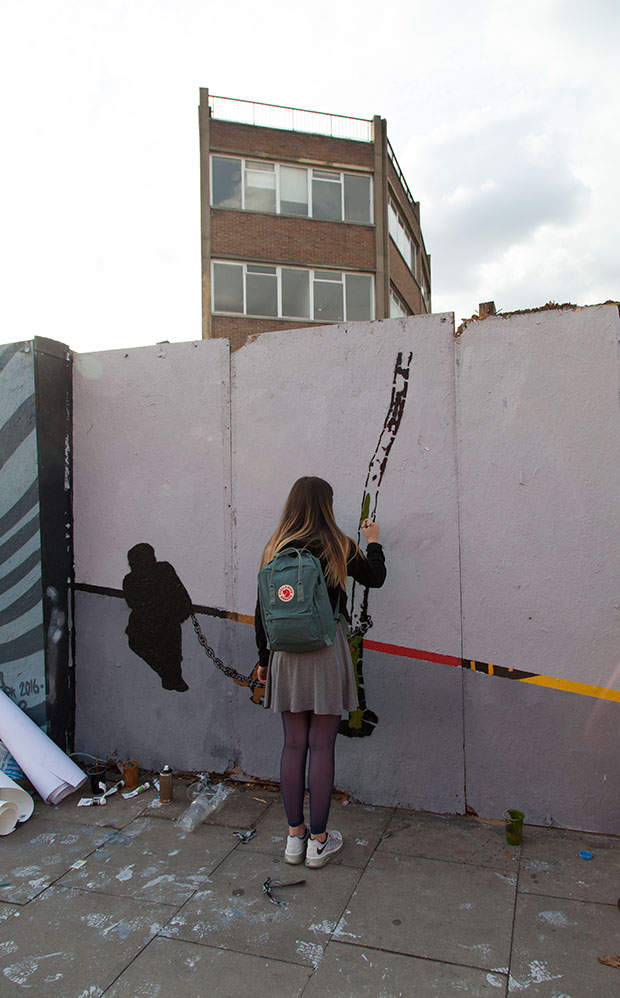 "Can I have a go?" a young woman asks.
"Yes of course!"
She stops for a moment, hesitant. Then she ends up staying until the very end. And in the end, Subay gives her, Éléa, the stencils when he finishes the mural.
"Do you paint?"
"A bit"
"Not a bit, you have to paint a lot! Painting is beautiful."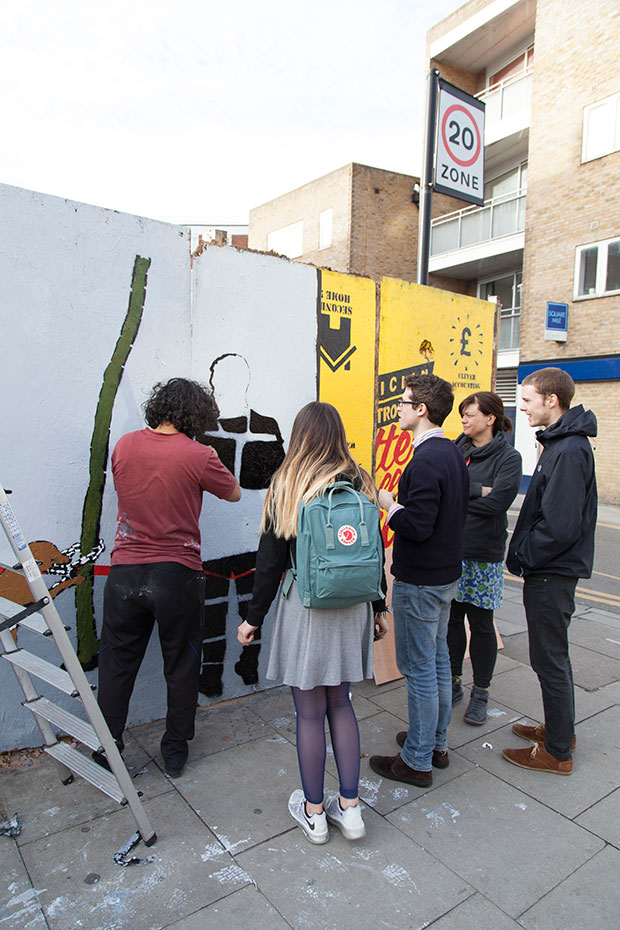 "They have artists in Yemen? First time I hear that!"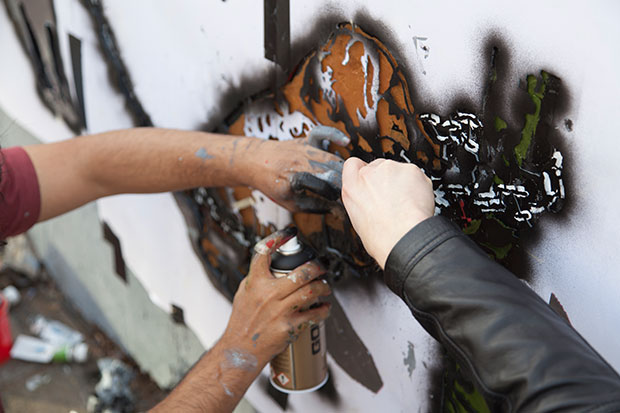 "You know how to spray right? Come and learn a bit!"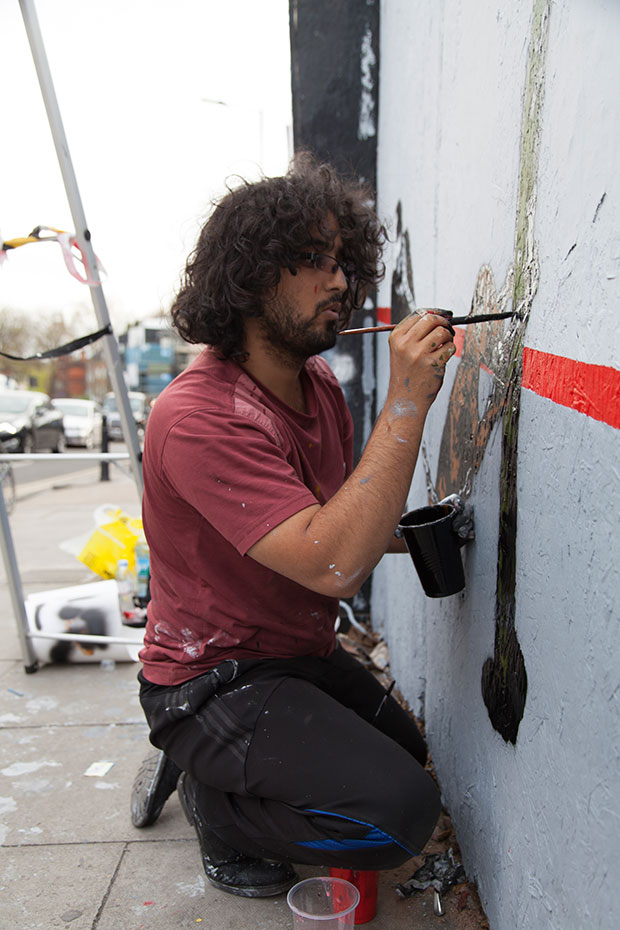 "When I started out, I was alone, and I did it all in one week. I am slow. In the beginning, I never thought people could join. But then they did. They say: 'Oh look, the artist!' And they join"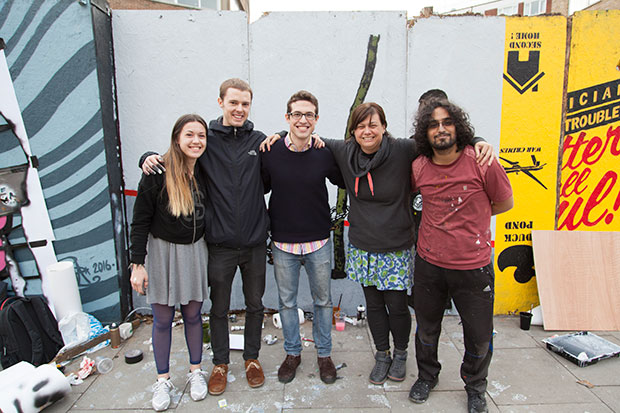 "These stencils, I made in Yemen. I staged a photo, printed it, then cut it out. That chained man is one of my relatives. He's a very nice person. He jokes a lot and loves painting. I really like him. We work together a lot, on street art of course but also many different things."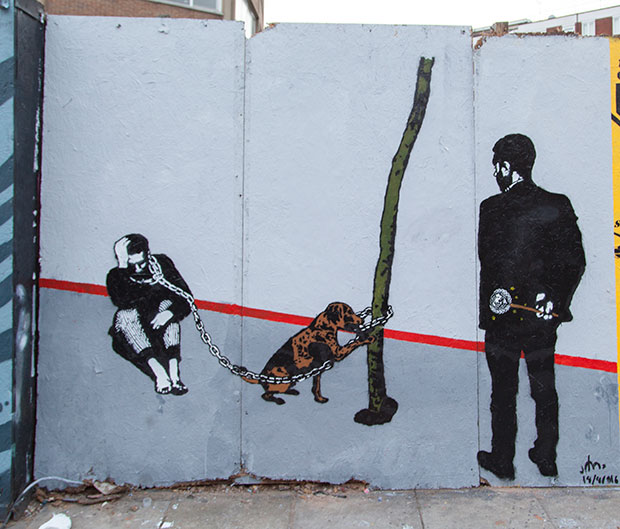 "It's all about how the man is suffering. He's not just Yemen or anybody in particular. It could be any man. The dog is trying to help, and is showing more kindness then the other man. The dog shows that it's possible to help out, but the other man doesn't want to do anything."