Art has traditionally accompanied political and social movements in Latin America and the turn of the 21st century has seen a resurgence of diverse forms of expression, including hip hop.
"Hip hop has many faces — from the underground scenes to gangster rap — and it allows you to talk about many different things," says Colombian rapper Luisa Ospina, aka Shhorai. "Many artists may talk about 'bitches', drugs and violence, and that's fine for them, but it's not for me, especially given the history of violence and conflict in my country."
Shhorai, an independent hip-hop artist, educator and activist from Colombia's second-largest city, Medellín, began rapping in 2003 at the age of 13.
"I started recording music at my home studio at 15, influenced by my older brother who is also a rapper," Shhorai says. She released her debut album Verdades Hostiles in 2011, followed by Doble X: Inicio y Complemento in 2015. She has worked in collaboration with various Colombian artists, including Nkanto MC and Koriotto.
Taking inspiration from female MCs throughout the Americas – from Columbian duo Diana Avella and Lucía Vargas and Venezuala's Gabylonia to Queen Latifah, famed for fighting misogyny in US hip hop – Shhorai uses her music to explore the structures of gender and class which create disadvantages for so many Colombians. Despite the progress her country has made in the last few decades, many problems remain unresolved. "Women in particular in my country have poor access to decent jobs and education and too many sisters have been affected by violence," Shhorai said.
"For indigenous women and women who work on the land, it is even worse: they work so hard but are still silent. Can you imagine a society in which so many women have no voice?"
"I was born in a culture which is all the time asking women: 'Why don't you wear makeup?' 'Why are you so big?' 'Why do you eat this?'," she says. "So I rap a lot about empowering women and becoming more independent because often we don't trust ourselves or know the inner power we have."
For every 10 men in hip hop, there is only one woman, explains Shhorai. "So we are naturally at a disadvantage and often feel alone, so we have to work together," she says. "And while I love feminism, I don't like hate for men because I recognise that we are together and must fight together."
Many women — as with many men — in hip hop, come from poor communities, not just in Medellín, but in Colombia's capital Bogota and other cities like Cali.
There are many sides to Medellín. Foreigners may know it for its troubled history — Pablo Escobar, cocaine and the violence that accompanied them. Other visitors may be more aware of its current status as one of the foremost and growing art and cultural hubs on the planet. The city came out on top of Tel Aviv and New York and was named the world's most innovative city in 2013.
"Medellín has become a much better city than it was 20 years ago — with many restaurants, a metro system, concerts all the time — but many still don't see how hard it still is for many people who live here – those who don't have the resources to go to university, or for the young people who have to fight against a system just to own something," Shhorai explains. "The city has two very different faces."
Poor communities and minorities like indigenous people "don't have options" and often don't have a say. "I want the world to pay more attention to the poverty because the rich downtown doesn't need more publicity — it has enough," Shhorai says.
This is what the rapper aims for in much of her work — whether in music, education or activism — when she talks about the political background and social conditions in her neighbourhood. "In this way, hip hop is for me a kind of liberty and at the same time an expression of love for my community."
One of the big problems in Colombian society is how in many ways it has turned a blind eye to the problems faced by women and the poor alike. A byproduct of this, inevitably, is marginalised people turning to hip hop and hip-hop culture — from breakdancing, DJing, MCing and graffiti — as places where they can finally be heard.
"Hip hop was born in poor communities in the USA often by those living terrible conditions and I can see they discovered a way of getting together and doing something as a community," says Shhorai. "This idea filtered back to us in Latin America and we got into hip hop for many of those same reasons, which is why rap music is everywhere in Medellín."
"But above all, hip hop is an opportunity to be independent, and while it's difficult, it is possible to create real change through art."
Also read:
– Zambezi News: Satire leaves "a lot of ruffled feathers in its wake"
– Jason Nichols: Debunking "old tropes" through hip hop
– Poetic Pilgrimage: Hip hop has the capacity to "galvanise the masses"
---
8-9 July: The power of hip hop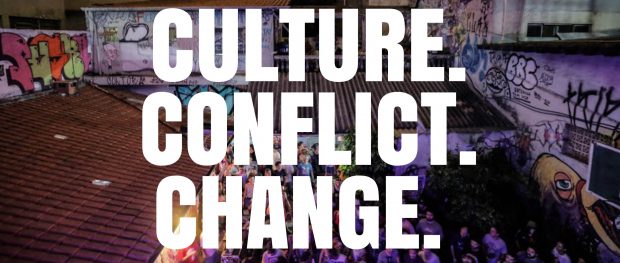 A conference followed by a day of performance to consider hip hop's role in revolutionary social, political and economic movements across the world.