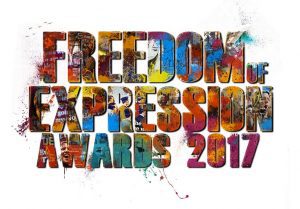 Established in 2003, the LGBT organisation Arcoiris, meaning "rainbow" in Spanish, works on all levels of Honduran society to advance basic rights. Honduras has seen an explosion in levels of homophobic violence since the military coup in 2009. Working against this tide, Arcoiris provides support to many LGBT victims of violence, run awareness initiatives, promote HIV prevention programmes and directly lobby the Honduran government and police force. Its tactics are diverse and often inventive. Between June 2015 and March 2016, six members of Arcoiris were killed for this work. Many others have faced intimidation, harassment, physical attacks or been forced to flee the country.
"All our campaigns have been well received and have enabled families to get a bit closer to their diverse sons and daughters,"Arcoiris coordinator Donny Reyes says. 
"I've been imprisoned on many occasions. I've suffered torture and sexual violence because of my activism, and I've survived many assassination attempts," he said, in an interview with Index on Censorship in April 2016. The activist had spent a year in exile and on his return feared he would be attacked and killed. However, he felt obliged to return to Honduras to fight homophobia and transphobia.
Many LGBT activists in Honduras share Reyes' fears as dozens are murdered each year, with killers rarely facing justice.
In the second half of 2015 alone, Arcoiris reported 15 security incidents against its members, including surveillance, harassment, arbitrary detentions, assaults, robberies, theft, threats, sexual assault and even murder. Other LGBT activists have experienced forced evictions, fraudulent charges, defamation, enforced disappearances and restrictions of right to assembly.
See the full shortlist for Index on Censorship's Freedom of Expression Awards 2017 here.