A Russian opposition and LGBT rights activist, Ildar Dadin was the first, and remains the only, person to be convicted under a notorious 2014 public assembly law. Aimed at punishing anyone who breaks strict rules on protest, the law was enacted to silence dissent after a wave of demonstrations following Putin's last election victory. Dadin's crime was to stage a series of one-man pickets, often standing silently with a billboard, attempting to duck the cynical law and push for free expression.
For his solo enterprise, Dadin was arrested and sentenced to three years imprisonment in December 2015. In November 2016, website Meduza published a letter smuggled from Dadin to his wife, exposing torture he claimed he was suffering alongside fellow prisoners.  The letter, a brave move for a serving prisoner, was widely reported. A government investigation was prompted, and Dadin was transferred – against his will – to an undisclosed new location. A wave of public protest led to Dadin's new location in a Siberian prison colony being revealed in January 2017.
In February 2017, Russia's constitutional and Supreme Courts suddenly quashed Dadin's conviction, ruling he should be released and afforded opportunity for rehabilitation.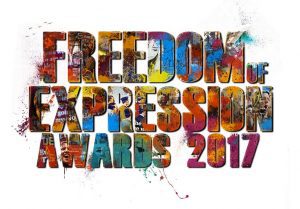 "Ildar's courageous defence of free speech and the right to protest are the chief reasons he was chosen from hundreds of nominations for the shortlist of this year's awards. I am heartened by this ruling. But Russia must go further and repeal the free-speech-stifling public assembly law," Jodie Ginsberg, chief executive of Index on Censorship said.
Prior to his release from prison, Index on Censorship spoke with his wife Anastasia Zotova. "Human rights watchers from all over the world were against that law – even Russia's constitutional court admitted that this law is not fair at all," she said.
See the full shortlist for Index on Censorship's Freedom of Expression Awards 2017 here.