Wang Liming, better known under the pseudonym Rebel Pepper, is one of China's most famous political cartoonists. He is best-known for his work satirising China's president Xi Jinping, for which he has faced repeated persecution.
"Most of my political cartoon works expose the CCP's crimes against the law, and the social problems and environmental crises that they have created," Wang says. "Comics are a simple and direct visual language, often more than the performance of an article, so the Communist authorities naturally hate my works very much."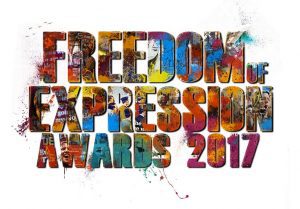 Rebel started drawing political cartoons in 2009. In 2014, he was forced to remain in Japan, where he was on holiday, after serious threats against him were posted on government-sanctioned forums. Wang and his wife only intended to stay in Japan for three months, but they remain there today.
The Chinese state has since disconnected him from his fan base by repeatedly deleting his social media accounts, he alleges his conversations with friends and family are under state surveillance, and self-imposed exile has made him isolated, bringing significant financial struggles.
Life in exile has been difficult for Wang for many others reasons, not least his financial woes. He reported in a post that his status in Japan is precarious because of problems renewing his Japanese visa.
Nevertheless, he keeps drawing, ferociously criticising the Chinese regime.
See the full shortlist for Index on Censorship's Freedom of Expression Awards 2017 here.