[vc_row][vc_column][vc_column_text]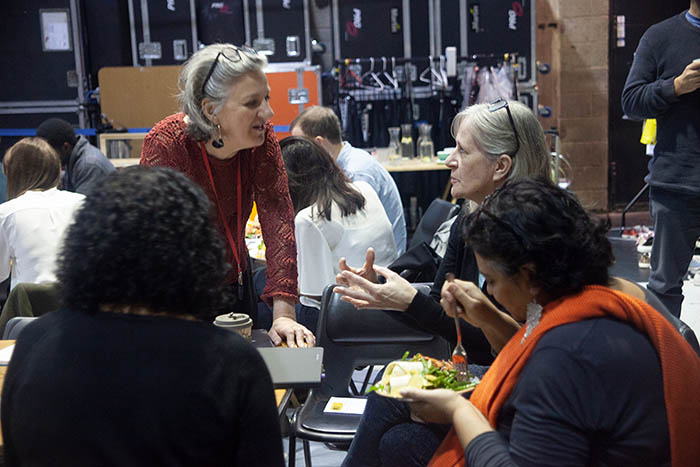 "Art doesn't divide society, it reveals division," said Julia Farrington, Index on Censorship's associate arts producer, at a Risks, Rights & Reputations session at the Young Vic theatre in London on 15 November.
RRR is a training programme developed by Index, What Next? and Cause4 to help art and cultural leaders understand and challenge a risk-averse culture and incorporate these topics within their organisations.
The event kicked off with guests giving a three-worded description of what risk means to them. "Vulnerable", "essential" and "unavoidable" were among the recurring submissions.
The discussion centred on freedom of expression and the police. Farrington talked about the artist Mimsy's piece ISIS Threaten Sylvania, which satirically depicts Sylvanian families being terrorised by ISIS through the representation of children's toys. The artwork was removed from the Passion for Freedom exhibition at London's Mall Gallery in September 2015 after the artist was given an ultimatum to pay £36,000 for six nights of security protection or to take it down. His decision was clear.
Guidance from the College of Policing recommends artists to take precautionary steps before making a piece of controversial artwork public. First, an artist should seek the upper-most authority and explain their artwork beforehand to avoid cancellation. Then, they should communicate with the local police. There are other actions an artist can take in these situations like have lawyer involvement, but the most effective is to share the artwork in advance to authorities.
Speaking alongside Farrington were Diane Morgan, director of Nitrobeat, and Helen Jenkins, a consultant for Cause4. Morgan held a segment on how organisations can manage difficult subjects, including dialogue and engagement.
In the last segment, Jenkins, who has over 20 years experience in fundraising, talked about raising money ethically and the importance of a trustee's duty to protect their organisation: if funding is coming from an unethical or compromising source, should the organisation reconsider accepting?
These three voices combined into one vital day of training for CEOs and trustees on navigating the rights and responsibilities of art and dealing the daunting, risky and time-consuming environment that comes with working with sensitive art.
Photographs by Leah Asmelash[/vc_column_text][/vc_column][/vc_row][vc_row][vc_column][vc_media_grid grid_id="vc_gid:1542885576234-b6a1fb2f-e5c5-7″ include="103773,103772,103771,103760,103762,103763,103764,103769,103774,103768,103766,103765″][/vc_column][/vc_row]