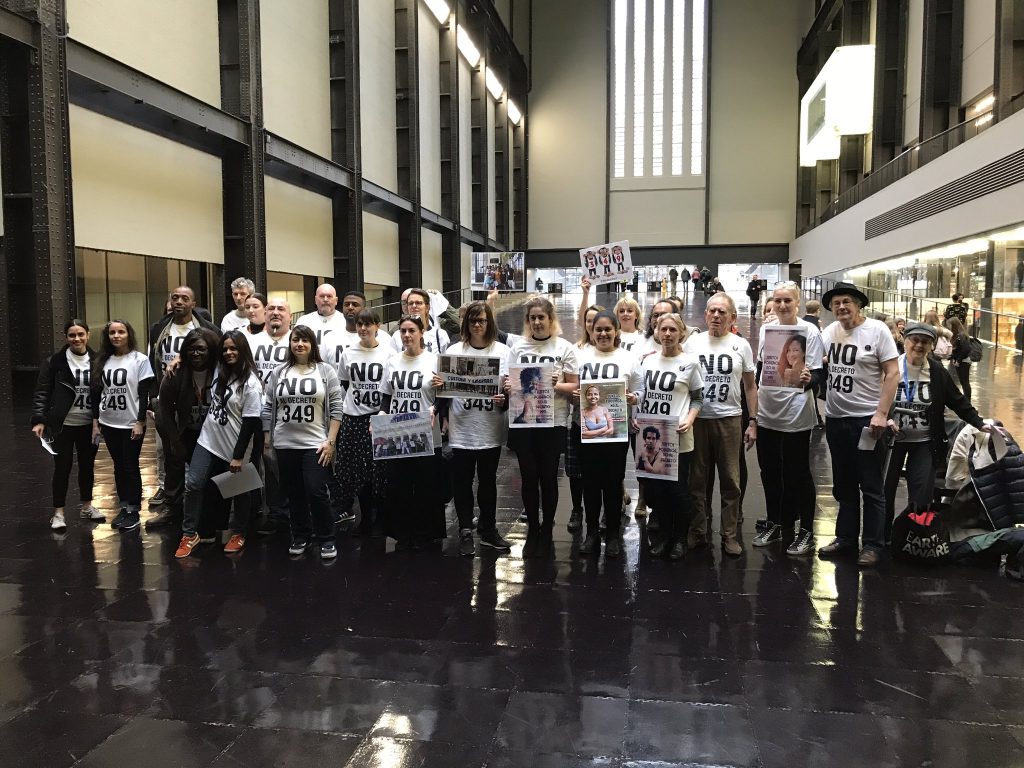 Update: All arrested artists have now been released, although they remain under police surveillance. Cuba's vice minister of culture Fernando Rojas has declared to the Associated Press that changes will be made to Decree 349 but has not opened dialogue with the artists involved in the campaign against the decree.    
Index on Censorship joined others at the Tate Modern on 5 December in a show of solidarity with those artists arrested in Cuba for peacefully protesting Decree 349, a law that will severely limit artistic freedom in the country. Decree 349 will see all artists — including collectives, musicians and performers — prohibited from operating in public places without prior approval from the Ministry of Culture.
In all, 13 artists were arrested over 48 hours. Luis Manuel Otero Alcantara and Yanelys Nuñez Leyva, members of the Index on Censorship Freedom of Expression Award-winning Museum of Dissidence, were arrested in Havana on 3 December. They are being held at Vivac prison on the outskirts of Havana. The Cuban performance artist Tania Bruguera, who was in residency at the Tate Modern in October 2018, was arrested separately, released and re-arrested. Of all those arrested, only Otero Alcantara, Nuñez Leyva and Bruguera remain in custody.
Speaking at the Tate Modern, Index on Censorship's fellowships and advocacy officer Perla Hinojosa, who has had the pleasure of working with Otero Alcantara and Nuñez Leyva, said: "We call on the Cuban government to let them know that we are watching them, we're holding them accountable, and they must release artists who are in prison at this time and that they must drop Decree 349. Freedom of expression should not be criminalised. Art should not be criminalised. In the words of Luis Manuel, who emailed me on Sunday just before he went to prison: '349 is the image of censorship and repression of Cuban art and culture, and an example of the exercise of state control over its citizens'."
Other speakers included Achim Borchardt-Hume, director of exhibitions at Tate, Jota Castro, a Dublin-based Franco-Peruvian artist, Sofia Karim, a Lonon-based architect and niece of the jailed Bangladeshi photojournalist Shahidul Alam, Alistair Hudson, director of Manchester Art Gallery and The Whitworth, and Colette Bailey, Artistic director and chief executive of Metal, the Southend-on-Sea-based arts charity.
Some read from a joint statement: "We are here in London, able to speak freely without fear. We must not take that for granted."
It continued: "Following the recent detention of Bangladeshi photographer Shahidul Alam along with the recent murder of journalist Jamal Khashoggi, there us a global acceleration of censorship and repression of artists, journalists and academics. During these intrinsically linked turbulent times, we must join together to defend our right to debate, communicate and support one another."
Castro read in Spanish from an open declaration for all artists campaigning against the Decree 349. It stated: "Art as a utilitarian artefact not only contravenes the Universal Declaration of Human Rights (Cuba is an active member of the United Nations Organisation), but also the basic principles of the United Nations for Education, Science and Culture (UNESCO)."
It continued: "Freedom of creation, a basic human expression, is becoming a "problematic" issue for many governments in the world. A degradation of fundamental rights is evident not only in the unfair detention of internationally recognised creatives, but mainly in attacking the fundamental rights of every single creator. Their strategy, based on the construction of a legal framework, constrains basic fundamental human rights that are inalienable such as freedom of speech. This problem occurs today on a global scale and should concern us all."
Mohamed Sameh, from the Index on Censorship Freedom of Expression Award-winning Egypt Commission on Rights and Freedoms, offered these words of solidarity: "We are shocked to know of Yanelys and Luis Manuels's detention. Is this the best Cuba can do to these wonderful artists? What happened to Cuba that once stood together with Nelson Mandela? We call on and ask the Cuban authorities to release Yanelys and Luis Manuel immediately. The Cuban authorities shall be held responsible of any harm that may happen to them during this shameful detention."