[vc_row][vc_column][vc_video link="https://www.youtube.com/watch?v=dtbX0d7pO1A"][vc_column_text]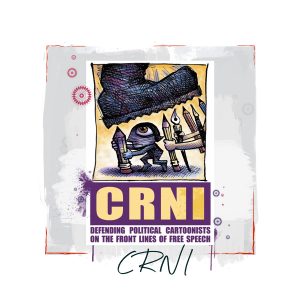 Terry Anderson, deputy executive director of Cartoonists Rights Network International, accepted the award on its behalf.
Ladies and Gentlemen, distinguished judges, new friends at Index on Censorship,
To accept this award and enter into fellowship with you is an honour intensified by the stature of the other nominees and recipients. On behalf of the CRNI board of directors and our regional reps around the world, thank you.
Those of us concerned with freedom of expression care about cartoonists because we are a societal safety-valve, expressing dissatisfaction about all the injustices and irritants of the world bluntly yet harmlessly, communicating an idea that is consumed in a matter of seconds. This immediacy gives cartoons their sensation of impudence. They are opinion pieces, not reportage. Nonetheless humour falls flat without veracity. Thus we look to cartoonists not for nuanced analysis of policy but to reveal deeper truths and it is for this reason that those in power have cause to fear them. Like virtually no other profession the cartoonist makes it their business to remind the citizenry that the emperor is naked. If they are not safe to say so, we are all diminished.
CRNI has at times had to make do with a skeleton crew and empty coffers even while trying to assist vulnerable practitioners on the other side of the planet and contend with the rising tide of authoritarianism and extremism well-understood by all rights defenders. To receive a plaudit is pleasant indeed, but for us the real prize is a year of fellowship that we hope will prove transformative to our profile and capacity.
I would like to mention some names. Two of our own award-winning cartoonists are with us: Zunar, a political cartoonist who faced 43 years in prison for criticising the Malaysian government, and Eaten Fish, an Iranian cartoonist who spent four years in a refugee detention camp – please do talk to them both this evening and hear their stories.
Two of our most important allies, the UK's Professional Cartoonists' Organisation & the International Cities of Refuge Network are represented, thank you. This fellowship recognises CRNI's campaigning in particular and if we have had any success in this regard it's due to the tireless efforts of our comms officer Patricia Bargh who stepped down last year. Finally I want to extend thanks on behalf of our founder director Dr Robert Russell who cannot cross the miles between us but rest assured will have the award hand-delivered as soon as possible.
Full profile: Cartoonists Rights Network International defends cartoonists worldwide[/vc_column_text][vc_basic_grid post_type="post" max_items="10″ element_width="6″ grid_id="vc_gid:1554466528428-22ad1975-324c-9″ taxonomies="8935″][/vc_column][/vc_row]