August will mark the end of our time with Mahmoud Ahmadinejad, Iran's president since 2005. His successor, moderate cleric Hassan Rohani, was announced as the winner of this year's election over the weekend.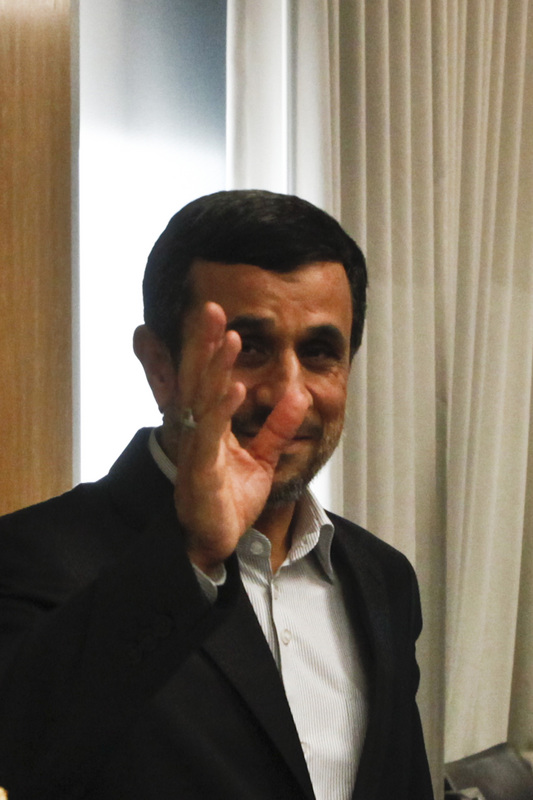 Ahmadinejad, the Islamic Republic's sixth president, brought along with him an aggressive foreign policy and a penchant for controversial statements — from
questioning the Holocaust, to denying the existence of homosexuality in Iran, to claiming that the United States developed HIV to profit from African nations.
His time in office has been marked with many arbitrary arrests and restrictions on freedom of expression. During his first term, 14 publications were shut down, including newspaper Sharvand Emrooz (Today's Citizen), closed for using an image of the then newly-elected US President Barack Obama on its front cover.
His re-election in 2009 sparked popular protests that became known as the "Green movement", as demonstrators alleging that the result was fraudulent filled the streets. They were met with a brutal crackdown.
The aftermath of the election brought a rise in attacks on journalists and press freedom, according to the Committee to Protect Journalists (CPJ). As of December 2012, the organisation reported 45 journalists in prison.
Iran has also gained a reputation for online censorship, named one of the "enemies of the internet" by Reporters Without Borders (RSF). In 2010, the country created a "Cyber Army" to police the web. Following the disputed 2009 election, Facebook was banned in Iran in the name of curbing social unrest. Also in 2009, the country formed the "Organised Crime Surveillance Centre", which according to RSF, has been used to pursue netizens.
Ahmadinejad also leaves behind a legacy of cultural censorship. According to a 2011 report published by  information activists Small Media, Iran's government "has become increasingly draconian in the imposition of restrictions and the implementation of new policies concerning the publication of books" following 2009's election. Small media contend "there has been no other comparable era of such heavy-handed suppression since the instigation of the Islamic Republic in 1979."
At the 2010 Tehran Book Fair, books approved published before 2007 were banned from being sold. Raha Zahedpour wrote for Index about this year's fair:
"No one in the industry can anticipate what will and will not be allowed by Iran's Ministry of Culture and Islamic Guidance. Completed projects wait for months to be reviewed by state censors and most are returned with a long list of "required modifications."
Iran's system of censorship, combined with international sanctions have "put the publishing industry under intense pressure" according to Zahedpour.
The country's film industry has also been crippled by its censors: independent as well as pro-reform filmmakers face punishment or jail time, while films with a regime slant receive financial backing. Filmmaker Jafar Panahi, for example, received a six-year jail sentence for "colluding in the gathering and making of propaganda against the regime" in 2010, as well as a ban preventing him from making films or traveling abroad for 20 years.
It's not known what the outgoing leader's next steps will be: he could stand trial in November, following unspecified complaints brought against him by Parliament Speaker Ali Larijani, a conservative rival. But some believe that the 56-year-old will not leave the political arena easily.
Sara Yasin is an Editorial Assistant at Index. She tweets from @missyasin