[vc_row][vc_column][vc_column_text]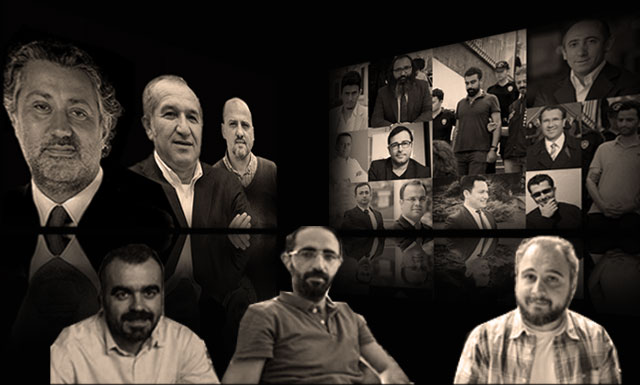 This article was originally posted at platform24.org.
Journalists, writers and human rights defenders will appear before judges in several court hearings scheduled for the coming days.
P24 will be following the upcoming hearings from the courtrooms and live tweeting the developments. Here is a list of the upcoming hearings:
Oct. 24: First court hearing for journalists in e-mail leak case
Six journalists, three of whom have been imprisoned since late December, will have their first day in court on October 24.
Former Diken news portal editor Tunca Öğreten, news editor of the shuttered DİHA news agency Ömer Çelik and BirGün employee Mahir Kanaat, DİHA reporter Metin Yoksu, ETHA news agency Responsible Managing Editor Derya Okatan and Yolculuk daily publisher Eray Sargın were first arrested on December 25 in police raids in an investigation into publication of leaked e-mails of Berat Albayrak, Turkey's energy minister. After a record 24 days in police custody, a criminal judgeship of peace ordered Çelik, Tunca and Kanaat jailed pending trial while releasing Okatan, Sargın and Yoksu, with a travel ban.
The journalists face terrorism related charges as well as the charge of "disrupting or preventing an IT system, amending or destroying data."
The hearing will take place at the Istanbul 29th High Criminal Court at Istanbul's Çağlayan Courthouse.
Oct. 24: Murat Aksoy, Atilla Taş and others
The next hearing of a case where journalist Murat Aksoy, ex-singer and a columnist for the shuttered Meydan daily Atilla Taş, Türk Solu journal writer Gökçe Fırat Çulhaoğlu and 26 others face coup and terrorism charges will be held on the same day at the Istanbul 25th High Criminal Court.
Almost all of the defendants in the case are journalists from a variety of media outlets, some of which were closed down under the state of emergency. 23 of the 29 defendants are imprisoned awaiting further trial
The first hearing of the case where all of the 29 defendants face terrorism charges took place on March 27-31, at the end of which the court ruled to release 21 of the 26 defendants in pre-trial detention. But none was released after 13 defendants whose release was sought by the prosecutor were arrested as part of a new investigation – this time on coup charges – and eight others were detained upon a successful appeal from the prosecutor against their release. One of the 13 defendants who were arrested as part of the new coup investigation, Zaman editor Ali Akkuş, was released shortly after his arrest.
Two other journalists charged with coup, Bünyamin Köseli of Aksiyon weekly and Cihan Acar of Bugün newspaper, were released at the end of the first hearing on August 18.
The court also ruled to merge the coup trial with the earlier terrorism trial. The hearing on October 24 is the first session to take place after the two cases were merged.
Oct. 25: Human rights activists to appear in court
The ten human rights activists who were detained at a workshop on Istanbul's Büyükada island in July will appear before a court for the first time on October 25.
Eight of the human rights defenders are still imprisoned. They will be tried along with Taner Kılıç, head of Amnesty International Turkey, who was detained earlier in another investigation.
The hearing will begin at 10 a.m. at the Çağlayan Courthouse. The Istanbul 35th High Criminal Court will hear the trial, but the session will take place in the courtroom for the Istanbul 14th High Criminal Court.
The rights activists face up to 10 years in jail on charges of "helping an armed organization" while Kılıç faces up to 15 years for "membership in the FETÖ terrorist organization."
Idil Eser, the Director of Amnesty Turkey; İlknur Üstün from the Women's Coalition; Günal Kurşun from the Human Rights Agenda Association;Nalan Erkem from Citizens' Assembly; Özlem Dalkıran, also from Citizens' Assembly; Veli Acu, from Human Rights Agenda Association; Şeyhmus Özbekli, lawyer Nejat Taştan; Association for Monitoring Equal Rights digital strategy consultant Ali Gharavi; and trainer and writer Peter Steudtner were detained on July 5. Taştan and Özbekli were later released on probation.
Oct. 25: Case into publication of MGK documents
October 25 is also the date for the next hearing of a case where former Taraf journalist Mehmet Baransu, who has been imprisoned since March 2015, and the former responsible managing editor of the shuttered daily, Murat Şevki Çoban are on trial on charges of acquiring and publishing state secrets in relation with a news story that claimed the Fethullah Gülen network was blacklisted by the country's top security body at a National Security Council (MGK) meeting in 2004.
Baransu faces up to 50 years and six months while Çoban faces up to 31 years in prison.
The session will be heard by the Istanbul Anadolu 10th High Criminal Court.[/vc_column_text][/vc_column][/vc_row][vc_row][vc_column][vc_row_inner][vc_column_inner width="1/4″][vc_icon icon_fontawesome="fa fa-times-circle" color="black" background_style="rounded" size="xl" align="right"][/vc_column_inner][vc_column_inner width="3/4″][vc_column_text]
Since 24 May 2014, Mapping Media Freedom's team of correspondents have recorded and verified 3,597 violations against journalists and media outlets.
Index campaigns to protect journalists and media freedom. You can help us by submitting reports to Mapping Media Freedom.[/vc_column_text][/vc_column_inner][/vc_row_inner][/vc_column][/vc_row][vc_row][vc_column][vc_column_text]Oct. 26: Özgür Gündem solidarity case
On October 26, 13 journalists and writers will appear before judges at the Istanbul 14th High Criminal Court in a case where they face terrorism related charges due to their role in a campaign of solidarity with the Özgür Gündem daily, which was later shuttered.
Journalists İhsan Çaralan, Fehim Işık, Ertuğrul Mavioğlu, Celal Başlangıç, Celalettin Can, Öncü Akgül, Hüseyin Aykol, Ömer Ağın, Dilşah Kocakaya, Mehmet Şirin Taşdemir, Veysel Kemer and Yüksel Oğuz, as well as the head of the press workers' union DİSK Basın-İş, Faruk Eren, are defendants in the case.
Oct. 31: Fourth hearing in Cumhuriyet trial
On October 31, the fourth hearing of the Cumhuriyet trial will be held at the Istanbul 27th High Criminal Court.
A total of 20 defendants, including one Twitter user who is not a Cumhuriyet employee, are on trial in the case. Cumhuriyet Executive Board Chair Akın Atalay, Cumhuriyet Editor-in-Chief Murat Sabuncu, reporter Ahmet Şık and the employee of the newspaper's accounting department Emre İper are currently imprisoned and so is the Twitter user, Ahmet Kemal Aydoğdu.

Oct. 31: Özgür Gündem main case
Again on October 31, the main Özgür Gündem trial will continue at the Istanbul 23rd High Criminal Court.
İnan Kızılkaya, the responsible managing editor of the shuttered daily who has been imprisoned for more than a year and Kemal Sancılı, the daily's owner who has been in prison since January, writer Aslı Erdoğan, linguist Necmiye Alpay, journalist Bilir Kaya, publisher Ragıp Zarakolu, lawyer Eren Keskin and politician Filiz Koçali are the defendants in the case.
Nov. 1: Third hearing in Nedim Türfent's trial
Another journalist who will appear in court in the coming days is Nedim Türfent, a reporter for the shuttered Dicle News Agency (DİHA).
Türfent, who has been imprisoned since May 13, is accused of "membership in a terrorist organization" and "terrorism propaganda."
Türfent will appear before the judges at the Hakkâri 2. High Criminal Court for the third hearing of his case.
Nov. 2: First hearing in insult case against Perihan Mağden
Columnist Perihan Mağden will appear before a court in the first hearing of a trial where she is charged with "insulting President Recep Tayyip Erdoğan."
The charge stems from an article published in April 2016 in which Mağden criticized a contestant in prime time TV show "Survivor" by likening him to President Erdoğan.[/vc_column_text][/vc_column][/vc_row][vc_row][vc_column][vc_custom_heading text="Don't lose your voice. Stay informed." use_theme_fonts="yes"][vc_separator color="black"][vc_row_inner][vc_column_inner width="1/2″][vc_column_text]Index on Censorship is a nonprofit that campaigns for and defends free expression worldwide. We publish work by censored writers and artists, promote debate, and monitor threats to free speech. We believe that everyone should be free to express themselves without fear of harm or persecution – no matter what their views.
Join our mailing list (or follow us on Twitter or Facebook) and we'll send you our weekly newsletter about our activities defending free speech. We won't share your personal information with anyone outside Index.[/vc_column_text][/vc_column_inner][vc_column_inner width="1/2″][gravityform id="20″ title="false" description="false" ajax="false"][/vc_column_inner][/vc_row_inner][vc_separator color="black"][/vc_column][/vc_row]