Malaysia: Zunar mounts constitutional challenge to Sedition Act
In a surprise turn, the Malaysian cartoonist and his lawyers have applied to the country's high court to consider whether the Sedition Act is constitutional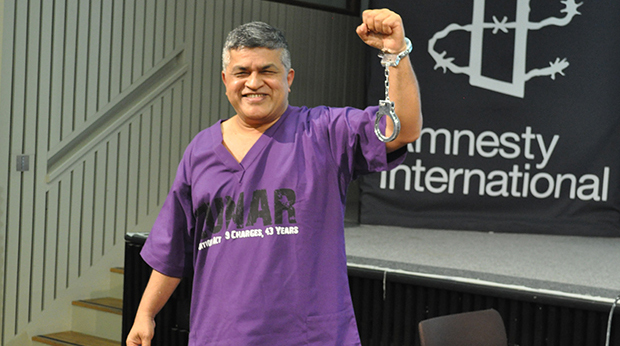 The court case against Malaysian cartoonist Zunar on nine charges of sedition was due to begin today, carrying a maximum penalty of 43 years in prison. Instead, the artist and his lawyers filed applications to have their cases referred to the high court, mounting a constitutional challenge to the country's Sedition Act and delaying the case against them.
The charges of sedition are in relation to a series of nine tweets the cartoonist wrote in February concerning the politically charged sodomy conviction against Malaysian opposition leader Datuk Seri Anwar Ibrahim.
Zunar's lawyer, Eric Paulsen, who was also due to face charges of sedition this morning, says the Sessions Court, which was due to hear the case, does not have jurisdiction to do so. He has posed the following three points for consideration by the court:
1 Whether section 3(3) of the Sedition Act 1948 is unconstitutional as it states that the "intention" of the maker "shall be deemed to be irrelevant" when making the seditious statement;
2 Whether the Sedition Act unlawfully criminalises peaceful expression of free speech and is thus unconstitutional;
3 The recent Federal Court case in PP v Azmi Sharom misread the constitution and should be reconsidered. Under Article 10(2), "Parliament may by law impose" restrictions on fundamental rights. Therefore, as the Sedition Act pre-dates the Constitution, it cannot be read into Article 10(2) to restrict freedom of speech.
The Malaysian Federal Court dismissed a similar constitutional challenge against the Sedition Act by University of Malaya law lecturer Dr Azmi Sharom early last month. Zunar's application is now fixed for a hearing on 8 December, and the decision will be made on 15 December.
In the meantime, there are no trial dates set for the sedition case against Zunar and his lawyers.
Zunar has just returned to Malaysia, after visiting the UK to raise awareness of his case and mount an exhibition of his work at London's Cartoon Museum.

Assistant Online Editor at Index on Censorship
Ryan McChrystal is Assistant Editor, Online at Index on Censorship, where he provides support for the news and online team in addition to creating content. He has previously held various editorial roles, including as a local reporter, a market reporter and most recently as a features writer at an SME-focused magazine. He graduated in history and politics from Queen's University, Belfast.
Contact: 
[email protected]
 |
public key

Latest posts by Ryan McChrystal (see all)