When times get tough, freedom of expression can quickly fall down the list of priorities. But it is exactly in these circumstances when the ability to communicate and express yourself is most important. For this reason, we continue to draw inspiration from last year's Index on Censorship Freedom of Expression Awards fellows and their struggles to keep freedom of expression alive and well.
As we look forward to the 2016 Index awards, here is our latest reminder of just how important a job our past winners do in the fight for free speech.
Tamas Bodoky, Atlatszo.hu / Digital Activism
Last year was a positive one for the Hungarian investigative journalism site and NGO Atlatszo. The site's yearly report reveals that funding was on the up and readership remained high.
The report also outlines the site's main investigations over the course of 2015, which include exposing state corruption, public budget spending, irregularity within EU funding and land lease and privatisation controversies.
The website's project for tracking down hate crime gained traction in 2014, and last year expanded to include "violent football hooligan groups and clergymen, who are close to the far-right," the site's executive director Tamas Bodoky told Index on Censorship.
"Unfortunately, some people became very hostile to our refugee crisis reporting last year, saying things like 'go to hell, Atlatszo, for helping them'," he added.
Atlatszo made 90 freedom of information requests as an organisation — plus hundreds of requests submitted by staff in their own names. Around 50% of Atlatszo's requests were at least partially granted. Of those that weren't, the site has initiated court proceedings to obtain the information, with almost half so far being successful, with several others pending. 
Going forward, Atlatszo has plans to expand by working with more bloggers and developing a new website allowing Hungarian citizens to "question representatives of Hungary in EU, members of the Hungarian Parliament and — in the long run — representatives of the local governments". The kepviselom.hu (my representative) project is currently seeking donors through crowdfunding.
"The Index award certainly helped get more international recognition over the last year," Bodoky said. "As a very small news organisation, we constantly struggle for visibility, and Index on Censorship was instrumental in raising the visibility of our cause."
Safa Al Ahmad / Journalism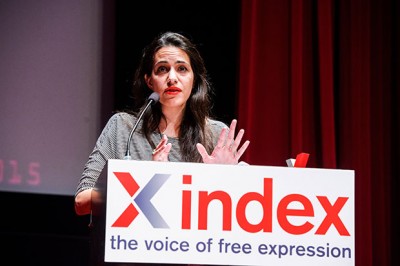 With the political crisis in Yemen steadily getting worse since last year, any plans Safa Al Ahmed had to switch focus were sidelined as she returned to the battle-scarred country.
"I filmed events in Aden and then Taiz, which is currently besieged," the award-winning journalist told Index on Censorship. "I'm going to be producing two separate films for both cities because north and south have very different dynamics."
Actually getting into Yemen is a real task in itself. Al Ahmed and her crew took a boat from Djibouti to Aden, which took 34 hours, and then travelled for another day off-road and across mountainous terrain, passing snipers along the way.
With the execution of the prominent Shia cleric Nimr al-Nimr, Al Ahmad's own country Saudi Arabia was briefly catapulted back into international focus at the start of 2016, but it didn't last. "There is very little investigative journalism being done on the ground, which makes reporting difficult as there isn't very much to build on," Al Ahmed says.
Citing the flogging of blogger Raif Badawi as an example of how brutal the Saudi regime is of critical voices, Al Ahmad describes the state of free speech in Saudi Arabia as "frightening". "The government have passed really wide rulings and laws so they can stop or arrest anyone for the simplest of reasons, including talking about the war in Yemen, which has been banned," she explains.
The big difference between now and 2014 is that people are currently receiving death sentences, which is "a whole different level of intimidation".
Mouad Belghouat aka El Haqed / Arts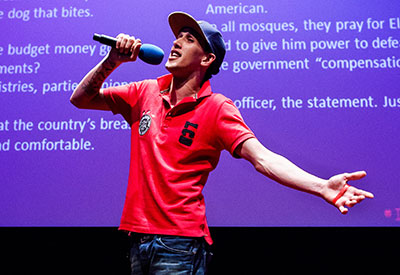 Last time we caught up with Moroccan rapper Mouad Belghouat, aka El Haqed, in October, he was in his home country keeping a low profile, while looking forward to performances in Florence, Italy, and at the 25th anniversary of the Moroccan Association of Human Rights in Brussels. Since November 2015, he has been living in Belgium, having applied for refugee status.
"In Morocco I felt threatened and under constant control," he told Index this month. "It's been hard, because already I miss the place where I grew up; I miss my family and my friends." The situation in Morocco "deteriorates more and more every day, at all levels", he explains, but vows one day to return.
He has now been cleared to work in Belgium, and has also turned his attention to creating more music. "I'm trying to finish the album I've been writing based on my experiences in prison in Morocco, and — as the last set of concerts have gone so well — I will be performing in Belgium in March and am looking to tour Norway come April."
There are also plans for a biography based on his experiences from 2011, when his music became an anthem for many Moroccans involved in the Arab Spring, right up to his persecution at the hands of the authorities, right up to his eventual self-imposed exile.
As for the Index award, he said: "Through Index, I met many great people from all over the world who share the same principles as me, and word of my case has spanned the breadth of the world."
Amran Abdundi / Campaigning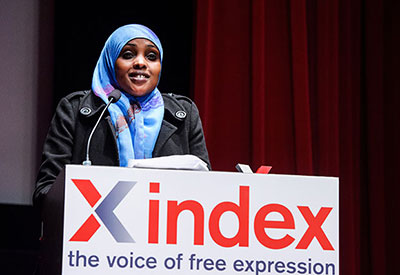 During our last conversation with Amran Abdundi, we discussed the attack in her native Kenya by Al-Shabaab linked terrorists on Garissa University College, in which 148 people were murdered. Abdundi, who knows many students from the college, immediately joined with other women leaders to organise strong community protests against Al-Shabaab.
Last month, Abdundi attended the re-opening ceremony for Garissa University College. "I was happy to meet victims who I offered counselling to after the attack, and see them now back on their feet, ready to study and achieve their dreams," she told Index.
She has also been busy recently with the upcoming launch of the new Frontier Indigenous Network website and implementing a new social media strategy to foster better connections between Kenyan women and the rest of the world.
As part of this new development plan, 2016 is packed with new projects, including an education programme on non-violence to counter violent extremism and radicalisation. The project will bring together Christians and Muslims together in "preaching peace and reconciliation".
"All of this wouldn't have been possible without the Index award and the support I have received from Index on Censorship, which led me to meet key individuals, such as Kenya's woman minister, Anne Waigiru."
Rafael Marques de Morais / Journalism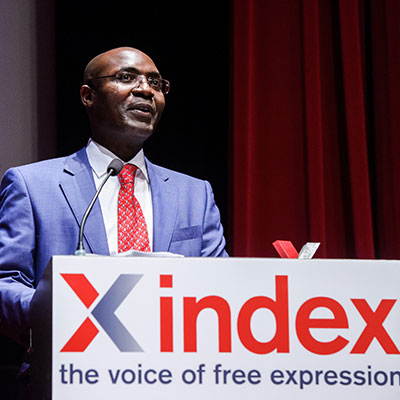 President José Eduardo dos Santos has been in power in Angola for over 35 years and his regime faces criticism on many fronts for, among other things, land grabbing, human rights abuses in Angolan prisons and the divvying up of the country's resources to his family "like it was their inheritance". These are just some of the issues Index award winner Rafael Marques de Morais is focusing on his activism and writing.
"This kind of work generates all sorts of troubles, because when you speak out against the president, you become suspect," de Morais told Index on Censorship.
Being a high-profile activist within the country, there is a misconception that de Morais doesn't feel the full force of the regime. "I might be 'free' but I can't go anywhere; when I went for a drink recently the person I was with noticed we were being watched," he explains. When he tried to enter a courtroom in December to observe the case involving the 15 Angolan bloggers now under house arrest, he was denied access. "Immediately the news on television was that I tried to enter the court illegally, because being high profile, the main thing they can attack is your reputation."
Coupled with the ongoing economic crisis in Angola preventing citizens from taking money out of the bank, times are tough. "How is one supposed to survive and keep going?" he asks.
But go on he does. The attention from home and abroad, including that generated by the Index award, have provided some solace. "It's always refreshing to know that people are interested," he explains. "The award provides great encouragement for one to keep going."
"But that's it. The next day, you are back to struggling for survival."
The Index on Censorship 2016 Freedom of Expression Awards shortlist has been announced.