Malaysian cartoonist Zulkiflee Anwar Haque, aka Zunar, has won the 2016 Cartooning for Peace Prize.
The award was presented at a ceremony at the Palais Eynard in Geneva on Monday 3 May 2016 by the honorary president of the Swiss Foundation Cartooning for Peace and former secretary-general of the United Nations Kofi Annan.
Annan said the award — jointly won by Kenyan cartoonist Gado — "reminds us how fragile this liberty remains in Africa and in Asia as well as in other regions of the world".
"Through their commitment towards open and transparent societies, Gado and Zunar, who have received threats in their countries of origin and can no longer practice their profession, confront us with our responsibility to preserve freedom of expression and act in order to support the combat of those who cannot express themselves through their art," Annan added.
Zunar has been repeatedly targeted with arrest, detention and harassment for his cartoons which are critical of corruption and abuses of power committed by the Malaysian government. He is currently facing nine charges of sedition for criticising Malaysia's judiciary over the recent incarceration of a Malaysian opposition leader and faces a possible 43 years in prison if found guilty.
The cartoonist said the Cartooning for Peace Prize gives him "strength for me to continue the fight against the 60-year old corrupt and repressive Malaysian regime".
He said human rights and freedom of expression are in "dire straits" in Malaysia and the country's institutions and draconian laws such as the Sedition Act are routinely used as a tool to "silence critics" and "maintain power".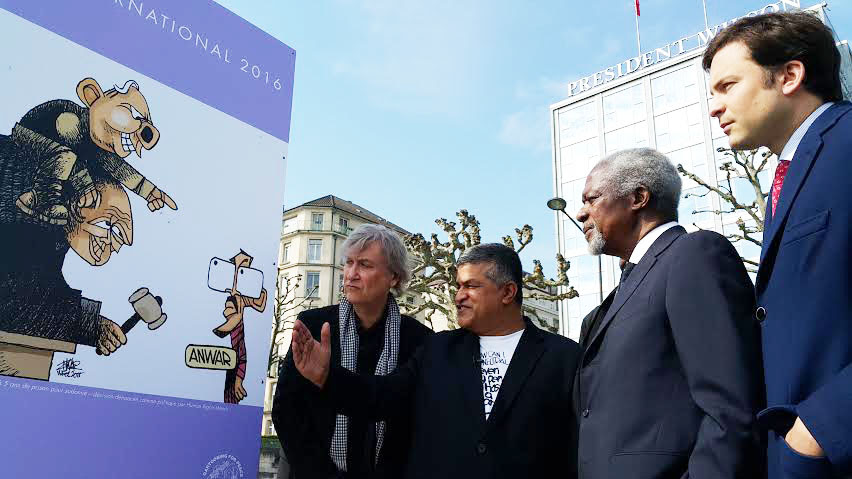 "Talent is not a gift, but a responsibility," Zunar added. "It is a duty for me as a cartoonist to use the art as a weapon to fight unjust rulers. Fear and intimidation are the potent tools being used by the regime to scare the people."
"I also strongly believe that, when faced with a moral crisis, there is no room to grumble in silence. We have to stand up and cry our voice out loud and clear. Neutrality is escapism for those who live in a comfort zone."
Zunar has spent two periods in Malaysian jails, firstly in September 2010 and again from 10 February 2015. Several of his books have been banned while bookstores carrying his works have been raided and three of his assistants were arrested in October 2014 for selling his books. The webmaster, who manages his website and online bookstore, has been interrogated by Malaysian police.
Zunar has previously been awarded the 2011 Courage in Editorial Cartooning Award by Cartoonists Right Network International, the 2011 and 2015 Human Rights Watch Hellman/Hammett Award, and the 2015 International Press Freedom Award by the Committee to Protect Journalist.
Zunar received a standing ovation at Index on Censorship's Freedom of Expression Awards in London in April.

Latest posts by Ryan McChrystal
(see all)