Update: Since publishing this article, Index on Censorship has been informed that Luis Manuel Otero Alcántara has also been released, having spent two nights in prison. He said that during his detention he was hit so hard "as if to break the spine".
The plan was clear: cover yourself with excrement, hold a sign demanding "Free art. No to decree 349" and be visible. But on the afternoon of Saturday 21 July, only Yanelyz Nuñez stood on the steps of the National Capitol Building in Havana, her body smeared with human faeces and her eyebrows furrowed in anger over the arrest of her colleagues for protesting against new legislation restricting the private display of art without government approval. The law threatens fines, raids and the loss of licenses for self-employed workers who solicit artists that lack approval from the Ministry of Culture. 
Among those arrested for protesting were artists Amaury Pacheco, Soandry del Río, Iris Ruiz and Luis Manuel Otero Alcántara. Otero Alcántara and Nuñez are the founders of Cuba's Museum of Dissidence, a website and public art project that won Index's 2018 Freedom of Expression Arts Award. The Museum of Dissidence works to reclaim the meaning of the word "dissidence" and support a new generation of artists dedicated to empowering marginalised communities, challenging repression and defending freedom of expression.
Luego de la detención de Luis Manuel Otero. La acción que no pudo hacer en Capitolio. #artelibre #NoAlDecreto349#noMasCensura #protestaPacifica

Posted by Amaury Pacheco OmniPoeta on Sunday, 22 July 2018
All of those arrested were accused of public disorder with Otero Alcántara facing an additional charge of aggression. All were released on the same day except Otero Alcántara who remains in detention. As Nuñez said on Facebook on 23 July, Otero Alcántara is expected to remain at the Vivac detention centre for five to six more days. After speaking with authorities she noted that "they did not talk to me at all about a trial or about what crime he was accused of".
"Index denounces the arrest and continued detention of Luis Manuel Otero Alcántara for peacefully protesting in favour of free expression," said Perla Hinojosa, fellowships and advocacy officer at Index on Censorship. "Despite the repercussions and lack of dialogue, the group's actions were successful because if you have the government's attention, you're probably stirring something up in them that makes them feel threatened."
On 22 July Otero Alcántara, Nuñez, Ruiz, Pacheco and Cuban artist Tania Bruguera published an open letter calling on the government institutions to engage in a dialogue with independent artists, seeking a voice in discussions on the cultural policy which so deeply concerns their line of work. On 23 July Nuñez delivered a legal writ to Havana's Provincial Court demanding to know more about Otero Alcántara's case within 72 hours.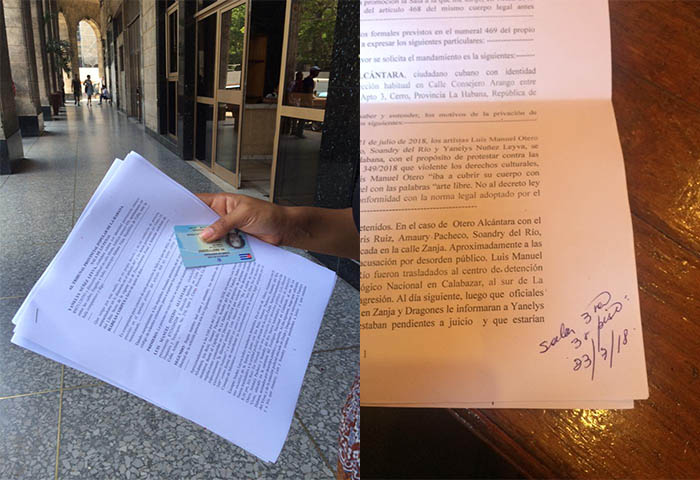 In May 2018 Otero Alcántara and Nuñez organised the first #00Bienal de la Habana, a ten-day independent art biennial including over 170 artists and creators from within and outside Cuba. For this, Otero Alcántara was imprisoned under the pretence of illegally possessing construction materials. The suppression of independent art has only worsened under Cuba's new president, Miguel Díaz‑Canel, who succeeded Raúl Castro in April 2018.