[vc_row][vc_column][vc_column_text]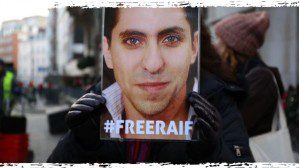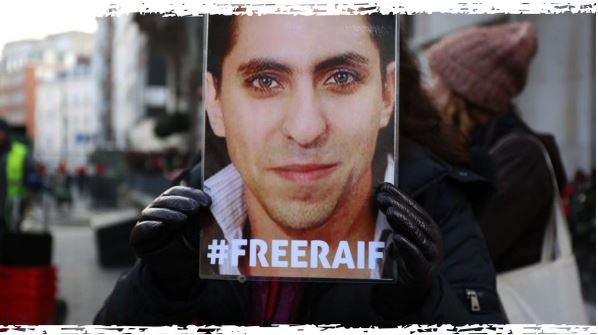 Join English Pen, Index on Censorship, Reporters Without Borders, the Society of Authors, ALQST and other supporters on 17 June for a special vigil to mark seven years since the arrest of blogger Raif Badawi who remains in prison, with the threat of 950 lashes still looming over him.
Raif bin Muhammad Badawi is a Saudi writer, dissident and activist, as well as the creator of the website Free Saudi Liberals.
Badawi was arrested in 2012 on a charge of "insulting Islam through electronic channels" and brought to court on several charges, including apostasy. In 2013 he was convicted on several charges and sentenced to seven years in prison and 600 lashes. In 2014 his sentence was increased to 10 years in prison, 1000 lashes, and a fine. The flogging was to be carried out over 20 weeks. The first 50 lashes were administered on 9 January 2015. The second flogging has been postponed more than twelve times. The reason for the most recent postponement is unknown, but the previous scheduled floggings were delayed due to Badawi's poor health. Badawi is known to have hypertension, and his health has worsened since the flogging began.
His wife, Ensaf Haidar, who took refuge in Canada after her life was threatened in Saudi Arabia, has said Badawi will not be able to survive further flogging.[7] Ensaf Haidar has given a series of televised interviews about Badawi's plight, including at the 2016 Geneva Summit for Human Rights and Democracy.
(NB supporters are asked to meet at the Curzon Street side of the Embassy).[/vc_column_text][vc_column_text]
[/vc_column_text][vc_basic_grid post_type="post" max_items="4″ element_width="6″ grid_id="vc_gid:1560326827552-7868d2a7-3044-3″ taxonomies="7″][/vc_column][/vc_row]