Music in Exile: Smockey playlist
07 Mar 2016
BY RYAN MCCHRYSTAL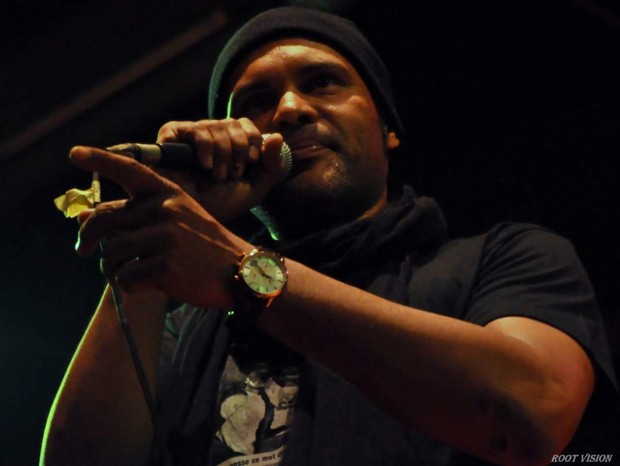 Serge Bambara, aka Smockey, is a hip-hop artist, producer and activist within Le Balai Citoyen, or the Citizen's Broom, a grassroots political movement seeking change in Burkina Faso. His music fuses hip-hop with traditional Burkinabe music, to critique and satirise government corruption, the lack of democracy, poverty and prejudice against women within the country.
His acclaimed Studio Abazon was fire-bombed in September 2015 in retaliation for his role in the ending of the 27-year tenure of former President Blaise Compaoré. Smockey has no doubt the attack was an attempt on his life in revenge for his activism. Thankfully the rapper was in hiding at the time and was unharmed.
Index on Censorship has named Smockey as the inaugural recipient of the Music in Exile Fund Fellowship. As the beneficiary, he will perform live in London, as well as receive training and opportunities to connect with other free speech heroes around the world. Smockey is committed to getting his studio up and running again and creating more music. Here's just a snippet of his work as a musician and producer.
Smockey – Votez Pour Moi


Votez Pour Moi (Vote for Me) was released at the time of the 2005 presidential elections in Burkina Faso. It is about the dire state of democracy in the country. "This song is very ironic and satirical," says Smockey. "In it, I play the role of a dictator making many promises he doesn't intend to keep." Dictators aren't known for their sense of humour, but so out of touch was Compaoré's government that they actually used Votez Pour Moi in their political campaign, playing on the TV every day.
"They didn't listen to the lyrics and so didn't realise it was a joke at their expense. Being in power for 30 years, they could only think of themselves," Smockey told Index on Censorship.
Smockey – A Qui Profite le Crime
The title of this track translates as: who benefits from the crime? It is about the assassination of Thomas Sankara, the revolutionary president of Burkina Faso from 1983 until his assassination in 1987. Smockey is a self-proclaimed Sankarist, a left-wing ideology in the tradition of Sankara, who was murdered during a coup d'état organised by Compaoré.
The opening lines of the song, translated from their original French, are as follows: "So everything was planned from the beginning / For the country, but the finish is death we were served; routine investigation / Who benefits? Who benefits from the cime? / Who knows? / We were misled."
Smockey – Tomber la Lame
Tombre la Lame (Falling Blade) is a song about female genital mutilation, a practice still common in Burkina Faso. "It happens as a result of local traditions and customs, and also religion, namely Islam," explained Smockey. "It's a very bad practice; women get hurt and go on to have complications later in life, such as when giving birth." FGM is a major problem in West Africa in general, and Smockey wants to "convince people that they have to stop it". 

Sankara was committed to women's rights during his brief time in power and outlawed FGM, among other things. "When Sankara was killed, progress on this front was stopped in its tracks, so we have to continue the fight," said Smockey.
Smockey – A Balles Reelles
In 2008, students in Ouagadougou, the capital of Burkina Faso, faced severe hardship following the sudden eviction from their halls of residence, the closure of essential facilities and the cancellation of welfare payments without notice. Authorities took the action following confrontations between students and police on 22 June 2008.
Balles Reelles, which translates as "real bullets", is a song criticising the authorities for their harsh treatment of young people. At a press conference, Smockey and his collaborator on the track, the reggae artist Sams'K Le Jah, also criticised the passivity of the students' parents in the face of the harsh treatment of their children. "Parents are silent when the university is closed and some students have become vulnerable," Le Jah said.
Les Ambassadeurs de la Liberté d'Expression – Le Droit de Vivre
Les Ambassadeurs de la Liberté d'Expression, or the Ambassadors for Freedom of Expression, is a collaborative project effort including Smockey and other musicians from west Africa who are committed to strengthening freedom of expression in the region. Le Droit de Vivre (The Right to Live) was recorded at Studio Abazon before it was bombed. It is a song against extremism and injustice.
Other artists in the project include Didier Awadi of Senegal, Sissao, Alif Naaba from Burkina Faso, and Marechal Zongo, Josey and Soum Bill from Côte d'Ivoire, among others.
"Not everyone is lucky enough to have a microphone in front of them, so if you have the chance to talk, you have to say something important," Smockey said of the project. "Art doesn't just have to be beautiful – it can be beautiful and useful at the same time."
Index on Censorship has teamed up with the producers of an award-winning documentary about Mali's musicians, They Will Have To Kill Us First, to create the Music in Exile Fund to support musicians facing censorship globally. You can donate here, or give £10 by texting "BAND61 £10" to 70070.

Latest posts by Ryan McChrystal
(see all)