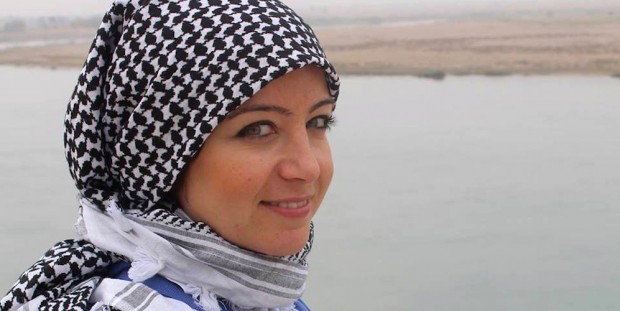 This week, UN officials described the Syrian regime's offensive against the besieged city of Aleppo as "barbaric". Following the collapse of a short-lived ceasefire, Syrian forces again began bombing Aleppo on Sunday, a continuation of the "unrelenting onslaught of cruelty".
Aleppo is the former home of Zaina Erhaim, activist, journalist and winner of the 2016 Index on Censorship award for journalism for her work training citizen journalists to report on the conflict within the city.
---

Zaina Erhaim is the 2016 Index on Censorship Freedom of Expression Journalism Award-winner and fellow. A Syrian native who was studying journalism in London when war broke out in Syria in 2013, Erhaim decided to return permanently to report and train citizen journalists in the war-ravaged country. Read more about Erhaim's work.

---
The battle for Aleppo has been raging since 2012, the same year Erhaim's husband, the activist Mahmoud Rashwani, was arrested and tortured by the Syrian regime for participating in peaceful protests.
Writing on 11 August 2016 Erhaim – who now lives in Turkey with the couple's seven-month-old daughter – said: "Among the estimated 300,000 to 400,000 people living on Aleppo's eastside, Mahmoud hadn't had any vegetables or fruit for the past month."
She added that shortages of food – from fresh produce and canned food, to eggs, flour and baby milk – along with a lack of fuel have have left the people of Aleppo increasingly vulnerable.
Speaking to Index on Censorship, Erhaim said she was "incredibly proud" about her husband's "brave" work searching for survivors among the rubble of bomb out buildings in Aleppo alongside other volunteers.
On 15 August, it was Rashwani's neighbour's home which was left in ruins. The neighbour – a journalist – along with his pregnant wife, were killed, while Rashwani escaped with a knee injury, Erhaim told Index.
Rashwani's home, which he shared with Erhaim before she left the city, was also damaged.
My house this morning after a barrel bomb attack that hit my neighbour last night. #Aleppo #Syria pic.twitter.com/49Q5v1EnWL

— Mahmoud Rashwani (@MahmoudRashwani) August 16, 2016
Rashwani travels between Syria and Turkey to be with his family, but the journey has become increasingly difficult as the war rages on, Erhaim said.
Erhaim herself faced difficulty with a border this week. Travelling from Istanbul on 22 September to attend an event organised by Index on Censorship, border officials at Heathrow airport held the activist and her child for an hour before confiscating her passport after it was reported by the Syrian authorities as stolen. She was told that her passport would have to be returned to the Syrian government.
Thank u #FriendsOfTyrant ! #Syria|n activist barred from travel after #UK seizes passport at Assad's request https://t.co/synEC0KFdI

— Zaina Erhaim (@ZainaErhaim) September 25, 2016
Erhaim was able to enter the UK on an old passport. However, this passport is now full, making future travel plans and visa applications potentially impossible.
Now back in Turkey, she will continue to work on projects with the Institute for War and Peace Reporting, she told Index. She is in the process of selecting five activists for a filmmaking project and has just completed hostile environments, first aid and digital security training with a number of journalists – essential skills for anyone reporting from Syria.
Erhaim will also continue to work on the Women's Blog on The Damascus Bureau, which has just received a book deal from a French publisher. "The first edition will be in French and will be followed by editions in Arabic and English," she told Index.
Speaking ahead of the Index event on women who report from war zones, Erhaim told Index: "The voices of women are very important because they are telling what is happening behind the frontline. While the major concern for most of the men in these situations is the actual conflict, women also think about education, health systems, clinics, social traditions, the changes in wedding styles – they are reporting on life."
Nominations are now open for 2017 Index on Censorship Freedom of Expression Awards and will remain open until 11 October. You can make yours here. 
More about Zaina Erhaim
Index condemns UK's seizure of award winner's passport
Women on the front line: Zaina Erhaim and Kate Adie on the challenges of war reporting
Zaina Erhaim: "I want to give this award to the Syrians who are being terrorised"
#IndexAwards2016: Zaina Erhaim trains Syrian women to report on the war